Margaret Thatcher Queen of Soho

Off The Kerb Productions / Aine Flanagan Productions /Theatre 503
Assembly George Square
–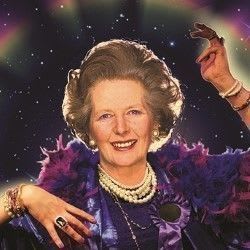 As "in the Navy" and "9 to 5" blare out front of house, the overall tone for the performance is set: uplifting and camp. Margaret Thatcher Queen of Soho doesn't disappoint on either point.
Matt Tedford is an exceptionally comic and warm Thatcher whipping the audience into a frenzy to boo and hiss at Jill Knight and to say 'ahhh' in all the right places. His Thatcher is the hero of the piece with witty asides, renditions of many famous songs and some delightfully clichéd dance routines.
How is this possible for a character so controversial? Margaret Thatcher Queen of Soho simply rewrites history ensuring that section 28 was never passed. In it, Thatcher narrates her own confusion about the situation, trying to keep the 'press, public and party' happy but having doubts about the bill.
Characters are played as caricatures, portraits speak, the occasional adlib creeps in and dramatic lighting is used throughout. The other two members of this three-strong cast (Ed Yelland and Nico Lennon) are clad in denim cut-offs, wife beaters and handlebar moustaches and Carol is supposedly operating the lights.
It is unashamedly theatrical, incredibly energetic and totally loveable. It is also very knowing; at one point, Thatcher looks at the audience and says, "Don't think about it too much, it doesn't really make sense."
So don't think about it too much, it's a fun show with a strong cast performing the most unlikely scenario—that's showbiz!
Reviewer: Amy Yorston