Margaret Thatcher Queen of Soho
Jon Brittain and Matt Tedford
Tobacco Factory Theatres


Listing details and ticket info...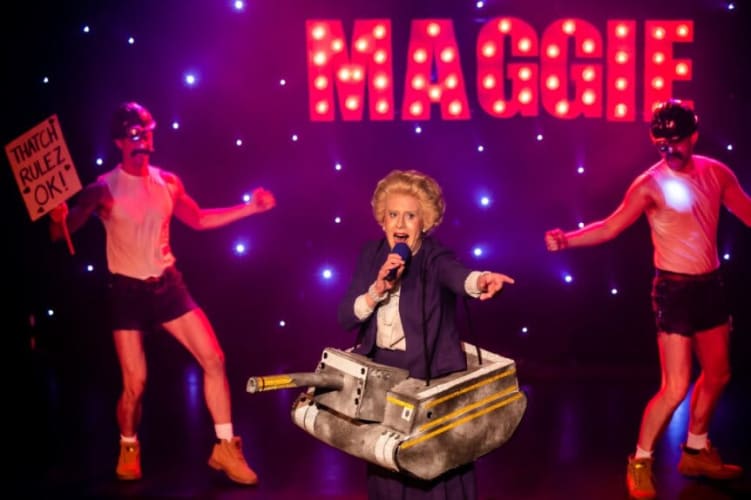 Blue twin set, pearls, scarf, hair set impossibly high, and clutching a handbag. It either has to be the Queen or Margaret Thatcher. But caught in the rain at night in Soho in a gay club?
Jon Brittain and Matt Tedford have created what must be one of the most improbable pieces of counterfactual history. Not only do they place Margaret Thatcher in the said nightclub, they also imagine her having an awakening on the eve of the parliamentary vote on Section 28, and, more incredibly, they cast Thatcher as the hero, stopping the bill becoming law.
If you don't know the political history of the 1980s, don't worry, the storyline helps you along. Section 28 was legislation passed in 1988 prohibiting the promotion or teaching of homosexuality in schools, not that this piece of serious politics should distract you from this ludicrously fun evening.
Matt Tedford adopts the mannerisms, voice and tilted stance to produce an uncanny, yet impossibly camp, version of Thatcher. She is supported by two sidekicks she refers to as 'the wets' (Hessel and Tine) dressed in ripped denim shorts, sleeveless, tight-fitting t-shirts and huge droopy moustaches, all very reminiscent of The Village People.
Tedford and Brittain cleverly intertwine their ridiculous story with hits from the '80s to bring the audience up to speed with the political context of the age. Pop songs are strategically introduced to signpost the decade. Human League's "Don't You Want Me" and Bananarama's "Venus" humorously signify Maggie's need to appeal in the polls, and the sing-a-long ensures the audience is pulled along and doesn't have time to think about the improbability at what is going on in front of them.
Tedford is a natural comedic performer. Paul Heath and Jacob Jackson are 'the wets' and other characters from the time, most notably MP Jill Knight. In this revisionist history, she is the true villain. Pantomime style, she is always flooded in devilish red light and accompanied by the ominous organ music from Phantom of the Opera.
It is a sign of the myth of Thatcher that many in their seats may not have been alive during the '80s, but the jokes seem to hit a receptive audience. For all ages, seeing a caricature of Peter Tatchell improbably sweeping Maggie off her feet is a treat that works throughout the entire auditorium.
But it doesn't seem to matter. The trio keep up a lively cabaret style dance routine as they belt out more and more popular '80s hits. Witty asides, knowing nods and anachronistic references to current issues keep the audience engaged. Perhaps a few too many knowing asides and scripted corpsing at the beginning of the second half give it a sluggish restart. Maybe this is too harsh?
You know from the title you are in for something unexpected and it certainly delivers what it says on the packet.
Reviewer: Joan Phillips