María de Buenos Aires
Astor Piazolla, Libretto by Horacio Ferrer
Teatro Communale di Ferrara
Teatro Communale di Ferrara, Italy
From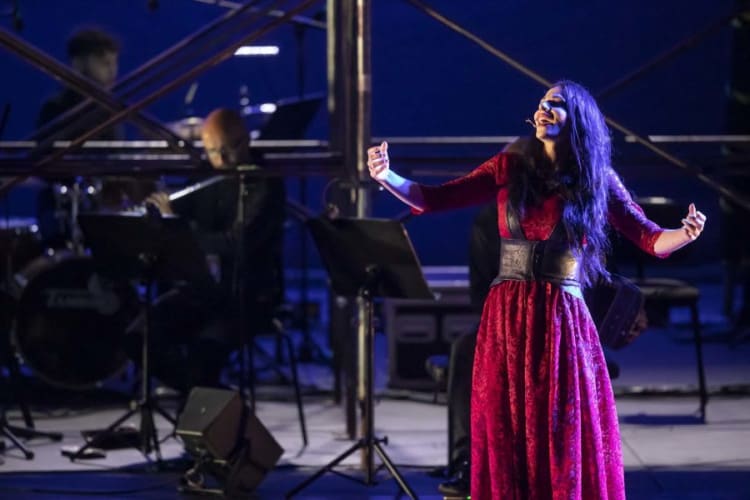 Argentine tango composer Astor Piazzolla (1921–1992) revolutionised the traditional tango into a new style termed nuevo tango.
María de Buenos Aires, his tango opera, too avant garde for some, premièred in Buenos Aires in 1968. Film played an important part in the production, giving it a political edge.
María was born "one day when God was drunk" in a poor suburb of Buenos Aires. She moved to the city centre where she was seduced by the music of the bandoneon (tango accordion) and became a prostitute. She died in a black mass. After her death, her Shadow walked the city and she gave birth to a reincarnation of her virginal self.
Piazzolla's music is haunting. Horacio Ferrer's extraordinary, poetic libretto is hallucinatory and surreal. María's story is told by a payador (a musical poet who speaks his lines) and a duende (a supernatural being who sings his lines). Parallels between María and Jesus are drawn.
Carlos Branca's production, conducted by Jacopo Rivani for Teatro Communale di Ferrara, is a tribute to Piazolla on the 100th anniversary of his birth. Martina Belli is María, the spirit of tango and city, idolised, debased and resurrected. Ruben Peloni is the Payador. Daniel Bonilla-Torres is a bland El Duende. Devide Vendramin plays the bandoneon.
Neither the production nor the dancing is helpful in interpreting and complementing the difficult text. The set is scaffolding, a cage of shadow and light. There is no attempt to create brothels, bars, and clientele. The dancers dance interestingly; but there is no integration, no characterisation, no reality, no sex, no violence, no crime, no fiery passion, no Buenos Aires and, would you believe it, no carnal tango, cheek to cheek, crotch to crotch, and no dangerous kicks between legs.
Teatro Communale Ferrara's Maria de Buenos Aires can be watched free on the Opera Streaming Channel.
Reviewer: Robert Tanitch