Marilyn: Forever Blonde
Greg Thompson
Leicester Square Theatre
(2009)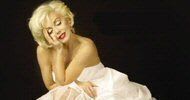 Greg Thompson, writer of Marilyn: Forever Blonde, has been involved in a love affair with Marilyn Monroe for over fifty years. After years of studying her, he understands Marilyn intimately, not just the glamorous bombshell we are all familiar with. Forever Blonde is his attempt to humanise the image of Monroe using verbatim dialogue from interviews she gave over the years.
Greg Thompson must have thought that all of his Christmases had come at once when he convinced his wife, Sunny to become the woman of his dreams. Understandably she was initially hesitant to take on this larger than life character. Whilst she had been told many times that she looked like Monroe, Mrs Thompson understood that taking on this icon required a great deal more than a passing resemblance.
However she ultimately decided to take on the challenge and, boy did she take it on! Sunny succeeds where many "impersonators" fail in that she doesn't impersonate; she becomes her subject.
It's hard to pinpoint exactly how this happens. It may be achieved through her sexy cooing voice with lips that never stop moving, her sensual walk (achieved through having one heel always slightly shorter than the other), her gorgeous, melodic singing voice or just that by applying glitz and glamour Sunny looks like Monroe. Or is it something more than that? Thompson seems to connect with Monroe's soul and captures the intangible.
We join Marilyn in a sort of an interview situation towards the end of her career. Sunny speaks directly with the audience as she takes you through a rags to riches tale. Since this play is created from Marilyn's words, talk of her drink and drugs problems are almost glossed over as she prefers to discuss other topics.
However, words are not needed as her behaviour and constant champagne drinking throughout the piece tell another story to the one we hear. Her tales are interspersed with voiceovers from people who knew and describe Marilyn and various songs which she performs are weaved in alongside her dialogue, often reflecting the tone of the story she happens to be telling.
Whether you're an obsessive fan or not that familiar with the life of this legend, Monroe's is a story that will captivate all (and not just because you cannot help but be seduced by this starlet). Marilyn Monroe was the perfect creation but beneath the veneer laid a multitude of cracks which could only be covered for so long.
Greg Thompson's play explores beneath the story of Marilyn Monroe to reveal a troubled soul indeed. We're all familiar with Monroe's untimely demise but this piece allows you to glean just a little more understanding of what drove her.
Aware of her sexuality from the age of about 13, she understood her power and was not afraid to use it to get what she wanted. Her success can almost entirely be attributed to this (and the fact she wasn't afraid to sleep her way to the top) and yet it was also her downfall. Once she had created this image it was impossible to undo and prove that she was more than something to look at and yet however much she tried, when insecurities surfaced she would return to using her sexual prowess like an old security blanket.
Monroe was a complete dichotomy and this is why she has captivated people for decades - long after her death. She was a woman and a child, a dumb blond who loved Yeats and Shakespeare, someone who used men but loved them deeply and a person who took advantage of others and was constantly taken advantage of herself.
All little Norma Jean ever really wanted was to be "wonderful" and who better to show that she really was than Sunny Thompson?
Playing until 18th November
Visit our sponsor 1st 4 London Theatre to book tickets for Marilyn: Forever Blonde
Reviewer: Rachel Sheridan