Marilyn and Ella
Bonnie Greer
Theatre Royal, Stratford East
(2008)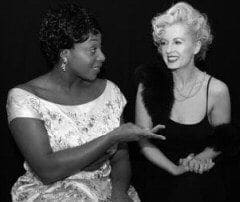 Bonnie Greer first used this material for a radio play, reworked it for a cabaret style play which had some success on the Edinburgh Fringe in 2006 and now, with a different cast, has been completely rewritten as this longer play. It makes an enjoyable evening in the theatre with nods to seriousness in reference to the restrictions placed upon people of colour, the struggle for civil rights and the outsider status of both these iconic figures.
It presents us with a Marilyn Monroe who idolises Ella Fitzgerald, and plays an important role in the black singer's career by fixing her a booking at the Los Angeles whites-only club Mocambo, and a Fitzgerald who longs to be in pictures. Marilyn wants to be taken seriously as an actress; Ella wants the film star's kind of fame and a life where a black singer on tour can use a proper toilet and not a fly-infested outhouse.
Greer has an excellent ear for a good line. Her Ella talks of "Riding trains that got that smell of cold fried chicken kept in shoe boxes 'cause you can't eat in the dining car." Or, of the cross-burning south, "The white sheets I like are on my bed, not coming at me in the dark." She has created a beautifully awkward scene when first Marilyn and Ella meet. Nevertheless it is other people's songs that pack the audience appeal - and what songs! Their effectiveness owes much to the piano playing of Warren Mills and his musical direction, with Kevin Dunford and Leonard Aruliah making up the trio.
Nicola Hughes is a strong stage presence in her own right and doesn't attempt to copy Ella, though when she lowers her pitch to imitate Satchmo it sounds as though perhaps she could have done. Instead she sings in a way that suggests Ella while still being her own performer. Wendy Morgan's Monroe is more parodic, but this is the star playing up to her own public image in its poses and swishing rear, not crude imitation. This is no 'tribute' show of look-alikes. Fans of both (and who of us isn't?) would jib at bad imitation and certainly I prefer good performance to soulless verisimilitude. These actress singers make a good pair and if not quite there yet should grow into their roles.
Robin Don has designed a set that at first places Marilyn in the foreground, with diamonds as its centrepiece, through which we see a segregated Ella behind a gauze; and director Colin McFarlane makes good use of it in keep the action moving - not always easy for a two-hander. The emphasis is more on glamour than racism with a final gold-lamé-dressed duet that has the feel of a panto walk-down. This is a show designed to please but that keeps things simple. Too simple, perhaps, to compete with the West End musical spectaculars that attract the coach parties. It is not great drama but it will send you out humming.
Until 15th March
Reviewer: Howard Loxton