Marilyn
Peter Schaufuss
The Peter Schaufuss Company
Apollo Theatre
(2009)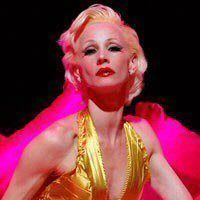 The virtuosity of the dancing, with its lifts, thrusts and synchronised leg-crossing, renders this dance portrayal of Monroe's rise and fall satisfying. The comments of audience members at the interval, however, suggested a feeling of having been let down. For forty quid they wanted more than a skinny and wordless ballerina dancing to recorded music.
Peter Schaufuss has coined the term 'dancical' to capture what his company produce. He makes no attempt to hide the company's reliance on recorded rather than live music, and nor does he apologise for abstaining from dialogue as a means of dramatic communication (in fact, he wins awards for it). His company combine polished choreography, carefully selected music and comic direction to draw drama, pathos and spectacle from Monroe's screen, sonic and sexual exploits.
There should be no complaints about the quality of performance here. I have greater aspirations to be a mushroom than I have experience of dance and ballet, yet even I could discern the subtle and refined expertise on display. The issue here, then, and the one that gave rise to pockets of discontent in the audience ("She's too thin. The bones in her back. It's not what Marilyn was about."), is a discrepancy between expectation and delivered product.
The women behind me sounded as if they wanted Marilyn herself up on stage; which struck me, given her current condition, as a little unreasonable. They wanted a digestible, audible and clearly delineated bio-chick-pic. A musical with token and clunky scenes of drama. They got something uncompromised, something measured and cerebral. Something that was mostly very good.
There may have been an element of false advertising at work. The Apollo, knowing that a ballet in the West End would be a tough sale right now, were coy, perhaps, in revealing exactly what to expect from Marilyn. I don't know. Yet anyone familiar with Schaufuss would not in any way have felt misled or let down - indeed, two patriotic Danes to my right were boiling over with glee. Also, anyone willing to leave their expectations down in the lobby would surely have stood a better chance of appreciating this show on its own unmistakable merits.
So what was is there to appreciate? The human elasticity, guile and control on display are quite something. Monroe's second husband Arthur Miller (Stefan Wise) lifts his wife above his head as if she were a Kit-Kat rather than a grown woman. When the two lovers practice romance on the sofa, never has a blow-job been more gracefully portrayed. I have also seen few better depictions of arousal than what Wise does with his legs and a newspaper.
The ensemble sequences - maids and butlers carry ever bigger piles of cushions and bottles of champagne - are done with a comic lightness and subtly poke at the damaging excesses of fame and fortune.
The costumes conjure the glitz and chic of the time with a knowing irony (at one point a group of dancers resemble a flock of sequinned roosters). The songs, though not performed live - which, considering ticket prices, perhaps they ought to be - still carry a seductive and propelling quality. The opening number 'River of No Return' puts the barrage of modern pop-love-songs to complete shame with its ardour and bleakness.
Though not as curvaceous as Monroe, Zara Deakin handles the unenviable task of embodying an enduring icon very well. How her toes and groin get through this baffles me. At one of the various moments when Marilyn plays the bedroom tease her legs tell the time as ten to three. Such technique, supported and abetted as it is by thoughtful direction and collective virtuosity, sent me home smiling.
Until 13th June
Visit our sponsor 1st 4 London Theatre to book tickets for Marilyn
Reviewer: Ben Aitken