Mark Thomas: A Show That Gambles on the Future
Mark Thomas
Summerhall
–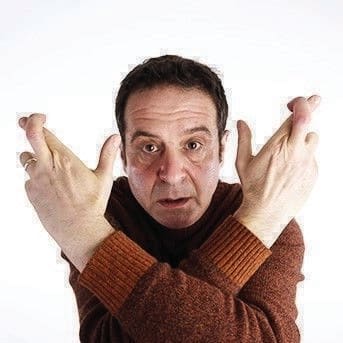 In many ways, Mark Thomas's latest show is similar to that of Andy Zaltzman, in that both ask for suggestions from the audience prior to the show which is then explored using stand-up—albeit in more of an angry working-class protest, rather than a polite Radio 4-friendly, kind of way.
Thomas asks us each for two predictions based on current trends: one that we think may happen in the next two weeks and the other in the next two weeks to four years. The idea is that he discusses them all, with contributions from the audience, and we then agree on the one that he has to actually put a bet on. Should we win, we can nominate on his web site a charity to receive the money—he suggests one that will "annoy the right people".
Inevitably, Trump featured in many of the suggestions at the performance I saw—would he resign, be impeached, be assassinated (perhaps by Sir David Attenborough), appear on live TV speaking in tongues? (the last was the one we voted in)—but there were predictions about Teresa May, Jeremy Corbyn, nuclear war and a few others.
Politically astute and very well-informed, Thomas is comfortable discussing these subjects and responding to a live audience in a thoughtful and intelligent way, getting comic mileage from poking fun at public figures and their policies as he has been doing for years.
Between this, we gain quite an insight into his family life when growing up in London. At the age of 8, he wanted to be a preacher—some may say he has realised that ambition if not in religion—coming from a family of preachers. His father was a fighter and quite a hard man, in many senses, but he explains how he earned his respect.
This is an interesting way of coming at a satirical show with audience participation, mixing improvisation with prepared material, with an intelligent analysis of the political turmoil in today's world.
Of course, being Thomas, there is a working class socialist slant (well, more of a mountain slope)—which is fine by me—but I get the impression he would quite happily debate with people with very different opinions, even if they might not always appreciate his humour.
Reviewer: David Chadderton