Mark Thomas – Check Up: Our NHS at 70
Mark Thomas
Lakin McCarthy in association with Nick of Time Productions
Arcola Theatre (Studio 1)
–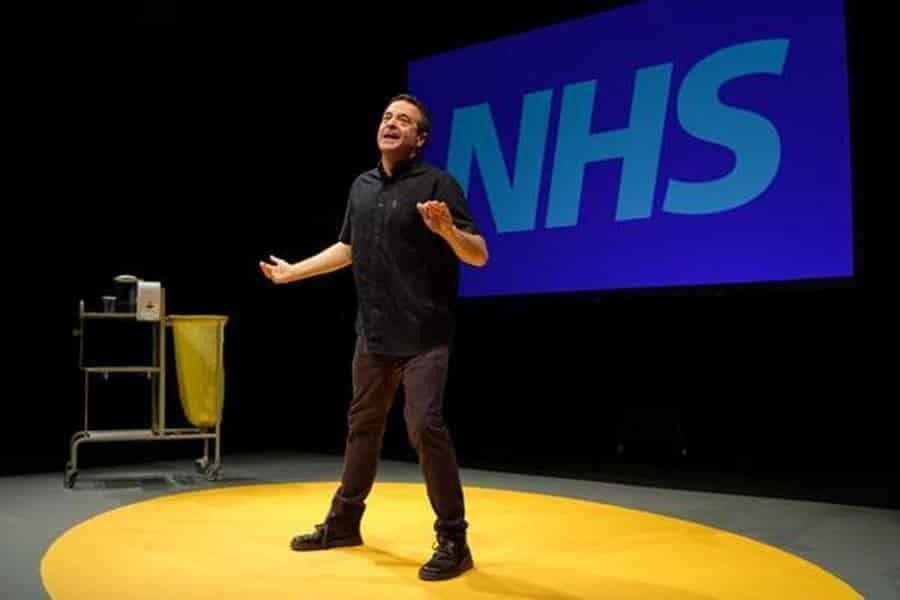 The people who live in the streets around Grenfell have a life expectancy twenty-two years lower than those who live in the streets around Harrods.
That's one of the shocking things we hear in Mark Thomas: Check-Up – Our NHS at 70.
The show takes us from the days prior to the creation of the NHS when families would save money each week for that sudden illness when health bills could plunge them into debt, to the trauma units of a contemporary London hospital.
The NHS was intended to be universal, comprehensive and free, its founding slogan being "in place of fear".
But the poor still die younger and live in bad health longer, its remarkable achievements hedged in by social inequalities from housing to work and governments prioritising attempts to make the NHS profitable to private corporations.
Thus Virgin is awarded two billion in contracts and the policy of PFI, which in a video clip replayed a few times former Health Secretary Frank Dobson describes as his greatest regret, costs the NHS two billion each year.
Interviews with a range of health experts are mixed with Mark's account of some of the things he witnessed while "in residence" at the Imperial group of hospitals in London. Sometimes Mark morphs into playing the person he is interviewing.
There is the Chief Executive of the King's Fund Professor Sir Chris Ham saying former Conservative health secretary Andrew Lansley's blueprint for NHS reorganisation was inspired by the earlier privatisation of public services and has no health advantages.
And it appears that wealth will not be enough to protect us from future health catastrophe. Professor Dame Sally Davies, the Chief Medical Officer for England since 2011, describes the danger of bacteria developing resistance to recklessly overused antibiotics. She points to the example of the US where 80% of antibiotics are used in the meat industry. It is apparently cheaper than having hygienic conditions.
The show is entertainingly agitational but almost always laced with humour. Interspersed across the piece are short amusing sections of Mark's consultation with his GP, a very manic character he recreates, seemingly reveling in all the possible ways Mark could die before the 100th birthday of the NHS.
But whether the NHS or any of us lasts that long will depend not simply on how well we defend the Health Service but on the changes we make to the dangerously unequal society we live in.
Reviewer: Keith Mckenna