The Marriage of Figaro
Beaumarchais, adapted by Ranjit Bolt
Tara Arts
New Players Theatre, then touring
(2006)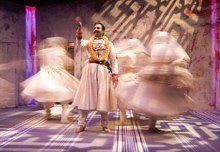 Mozart stands accused of annexing Beaumarchais' satirical comedy for his sublime opera while removing most of its political sting.
In fact while the opera has been top of the pops for more than two centuries this is only the second time the original play has been staged in London since its shocking first night in Paris in April 1784.
Back then Louis XVI thought its portrayal of frivolous aristos imposing their feudal privileges on female servants was a dangerous folly. But just five years before the French revolution, his courtiers seemed happy enough to chuckle their way to the guillotine.
Alas, Ranjit Bolt's farcical version, transferred to late 18th century India, now not only draws the sting but chucks out more than half of Beaumarchais' beautifully-drawn characters, including a sub-plot in which Figaro discovers the secret of his parentage. Worse, the political subtext is completely lost in a search for easy laughs.
At least it gives Tara Arts director Jatinder Verma the chance to stage this touring production with just five actors, most of them (during the course of less than two hours) doubling as mysterious masked figures to make up the numbers: a listening ear perhaps, a seeing eye maybe, and a floating white-bearded chin that has no apparent connexion with what remains of the plot.
The Indian staging style is traditional Bhaval, with a tabla drummer (V Chandra) seated stage right to add sound effects to every twist and turn in the plot — literally for the latter, since no piece of action is without its dance twirls and tripping feet to suggest male roguishness or female insouciance.
There are even undertones of the much-renowned Goon Show as the moustachioed Count (or Nawab in this case) speaks his English cliché lines with a strong Indian inflection, although Shammi Aulakh's performance is otherwise attractively done.
One also responds to Chris Nayak's Figaro, a Brummie barber with an East Midland's accent who, coming closer to the original, shows us what Beaumarchais was driving at in his contrast between 'his lordship' giving the orders and the wily servant finding ways to subvert them to his own ends.
Chand Martinez is curious casting for Cherubin, the Count's juvenile pageboy, who has signed up for military service but is still hanging around the castle and up to no good. The actor has a strong sense of character, but if anything he looks a little older than Figaro, and when stripped of his shirt in the Begum's bedroom reveals a bristling adult torso to match his slightly receding hairline.
The women of the household have the best of it, with Sharona Sassoon as the Begum and Dina Mousawl as her lady's maid Rukhsana making excellent use of silk pashminas, scarves and bridal veils to play their successful games of feminine wiles.
Charlotte Mayer's design of a row of doors opening on mirrored corridors both contributes to the sense of intrigue and provides a robust setting for the UK tour of the show.
The first and so far only pukka London staging of the Beaumarchais was at the National in 1974, directed by Jonathan Miller.
We may need to wait a few more years before that treat is repeated. Meanwhile Tara Arts version makes for an amusing night out with some groanworthy gags ("It'll be all white on the night") but is no substitute for the real thing.
The New Players' season continues until November 4th. The production then tours to the Bristol Old Vic (November 6-11); Theatre By the Lake, Keswick (November 15); Ramshorn Theatre, Glasgow (November 16-18); Yvonne Arnaud Mill Studio, Guildford (November 20-22); Darlington Arts Centre (November 24); Theatr Mwidan, Cardigan (November 27-28); and Taliesin Arts Centre, Swansea (December 1-2).
Sheila Connor reviewed this production at Guildford
Reviewer: John Thaxter