Marriage: A Respectable Wedding / Bud
Bertolt Brecht, translated by Jean Benedetti / Nick Darke
Waterloo East Theatre
–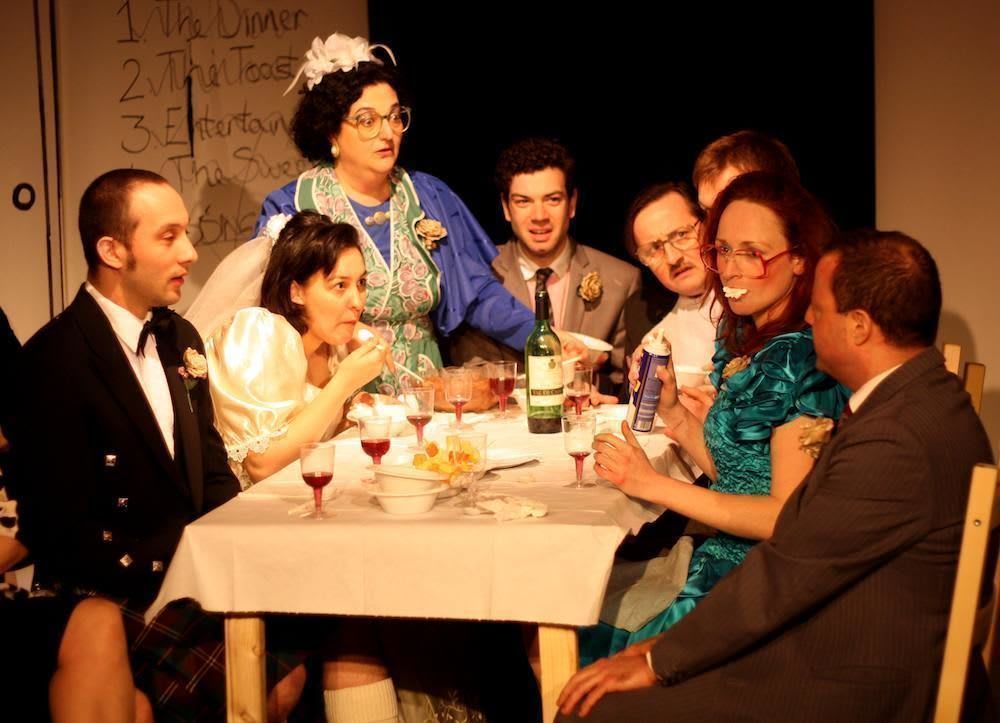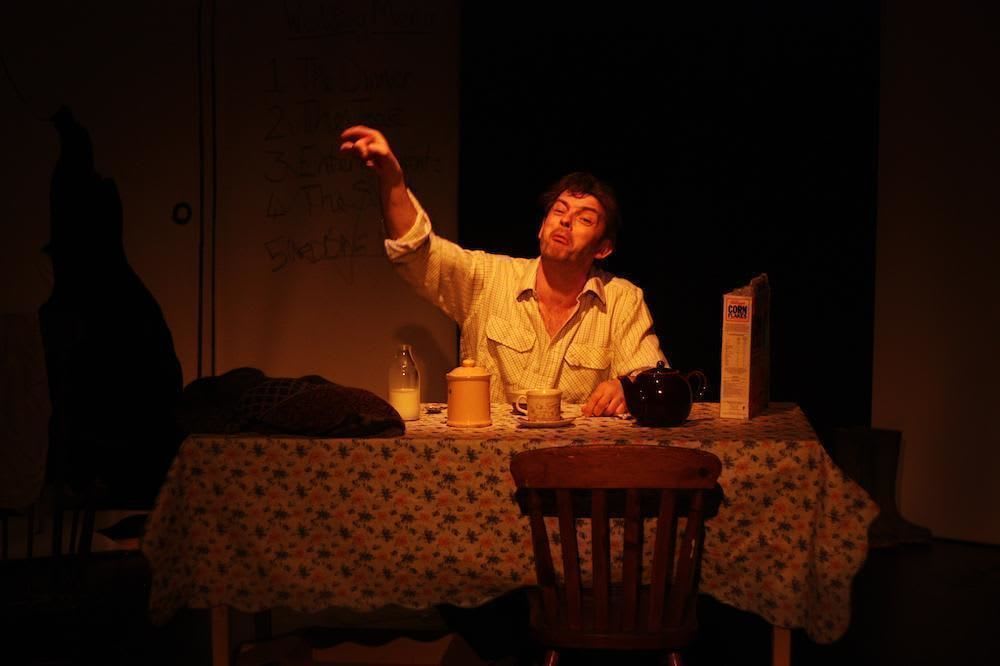 For some the 1980s feel like yesterday, but the period is now one of artistic nostalgia—or perhaps contemporary recognition of a time that feels all too familiar (the economy, the world in general) is more to the point. Following Missing last week comes a double bill from Director Penny Cliff and The Tell Theatre Company that links two plays beneath an umbrella of marriage.
From Waterloo Road take Sandell Street (by the Wellington pub), continue into Brad Street and (forming a theatrical triangle with the Old and Young Vics) is Waterloo East Theatre, a small and dark location providing a good setting for the first play of the evening, a translation of early 20th century German playwright and poet Bertolt Brecht's A Respectable Wedding (last seen at the Young Vic in 2007), here repositioned to 1985.
This updating allows for an 80s fest of ruffles, stripy blusher, and big women's hair as a small party partakes in an after-wedding meal—each course revealing ever-darker layers of marriage misery to the metaphorical accompaniment of wonky, breaking furniture—a state of affairs that allows any regretful singletons in the audience to imagine that they have perhaps made the right choice.
We cannot expect realism with Brecht and therefore much of the dialogue feels contrived, but there is still much to enjoy from an ensemble cast led by Peter Kenny in fine form as the dad who can't sit down for standing up and telling embarrassing anecdotes; and a surprising and welcome musical interpolation from Matthew Steinberg (the Bridegroom's friend) in an "Ultravox-esque" musing on chastity.
We return after a 15-minute interval to Bud by the late Nick Darke—a dark-by-nature monologue acted by Neil Sheffield—well supported by the stage detritus left over from Wedding. Written in the 80s and set in 1985, Bud is in its own time, so here we are transported back to a place when being married to a woman ten years older was perhaps more unusual than now.
Sheffield's Cornish farmer ("Bud") combines bitterness with flashes of warmth for a woman he is assumed to have married for her collateral worth: the delivery of lines is occasionally interrupted by incidental music (the low rumblings of trains above providing sufficient organic and atmospheric accompaniment in my view): otherwise, this is a laudable one-man performance with a twist worth waiting for.
Reviewer: Anita-Marguerite Butler