Martha Graham: Virtual Gala Performance
Various choreographers
ESD (Eliot Smith Dance) Presents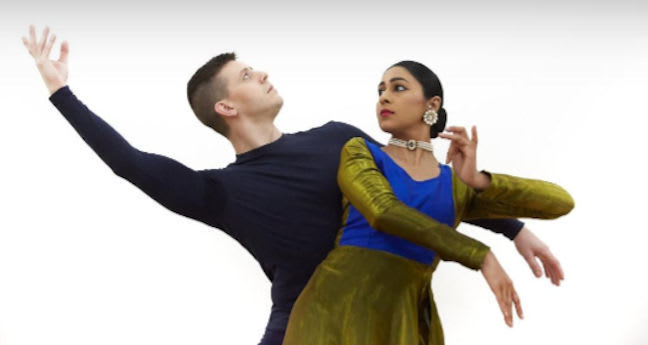 Eliot Smith is, as he says, "grounded" in the work and approach of Martha Graham (1894–1991), one of the major influences in the development of Contemporary Dance, and this Gala Performance, now virtual but not originally intended to be live, looks at her work and the way it has influenced and continues to influence dance today.
The Gala opens with US dancer Blakeley White-McGuire recreating one of Graham's most iconic pieces, Lamentation, a portrayal not of the lamentation, the sorrow, of a specific individual but of grief itself, conveyed through the typically Graham dramatic tension which seems to arise from a kind of internal opposition to the movement, rendering it taut and even tortured.
It is followed by Lament, directed by Smith and created in collaboration with a group of five community dancers who have clearly used Lamentation as a starting point, an inspiration for their own response to grief. It was created over four Zoom sessions and performed in Newcastle's Heaton Park, where each of the five performed for the camera and the footage was interwoven together to create a kind of movement collage.
Third on the bill is a short excerpt from a piece which was originally choreographed by Graham herself, Dark Meadow, which has been digitally recreated via Zoom by seven dancers in their own home locations across the UK, in Italy and in New Zealand, at the coast, in the country, in the garden.
The seven dancers were taking part in the digital ESD Martha Graham Professional Intensive, aimed at professional and aspiring professional dancers aged 17+ which took place during July over Zoom.
This abstract work was originally choreographed for three lead dancers and a chorus of nine and was, said Graham, "a re-enactment of the mysteries which attend the eternal adventure of seeking" and in this necessarily limited recreation, that sense of seeking is emphasised by the similarities of movement of dancers in very different kinds of place across the world. Am I just being fanciful in feeling that in some way they were seeking each other? Possibly I am.
Homage comes next. Directed by Eliot Smith and choreographed by the same seven dancers, this is a completely new piece of work, lasting just four minutes, which arises from a fusion of "animalistic qualities of the world's most endangered species" with the Graham technique, accompanied by music by Spirit of South Africa.
This subject matter certainly fits with the Graham technique of "contraction and relief" and, again, it exemplifies just what Martha Graham was about.
Finally comes a piece by Balbir Singh, I Am Not an Indian Dancer? Featuring Eliot Smith and Kathak specialist Abirami Eswar, this 30-minute work explores what happens when two very different traditions meet, the Graham technique which is built round the spine and Kathak dance in which the hands and feet are of major importance.
For much of the piece, the two dancers are separate, alongside or circling each other, but towards the end they come together, the two styles, the two traditions finding some common ground. At the beginning, it seems that no rapprochement is possible, that these two figures and what they represent are too far apart, but that separation proves illusory.
A really fascinating and engrossing piece of dance!
Martha Graham's work has become such an integral part of modern Contemporary Dance that it is hard for us to appreciate the shock and repugnance felt by the dance establishment—she was really excoriated at one point by a very well-known and respected critic—so we need this kind of Gala to bring home to us the major advances we owe to Martha Graham.
Reviewer: Peter Lathan