Mary Poppins
Based on the stories of P L Travers, with original music & Lyrics by Richard M Sherman and Robert B Sherman and book by Julian Fellowes, New songs and additional music and lyrics by George Stiles and Anthony Drewe
Disney / Cameron Mackintosh
Palace Theatre
–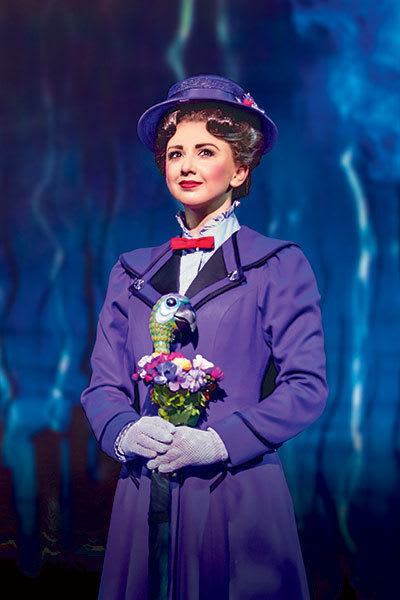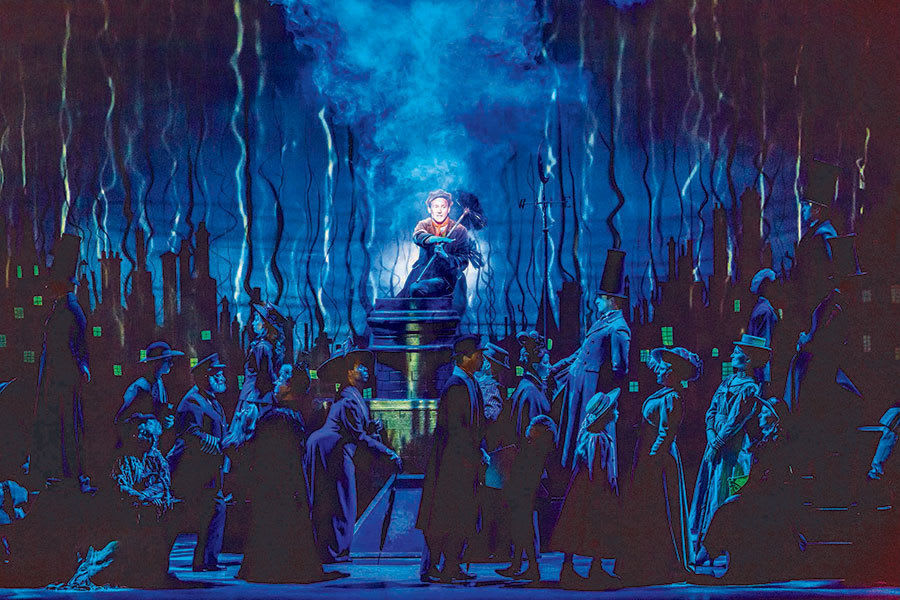 Everyone's favourite nanny is back in Manchester as Mary Poppins continues its UK tour at The Palace.
Cameron Mackintosh's production claims to be closer to author PL Travers's vision than the Disney film, and certainly it's a very different beast.
Jane and Michael Banks—Mary Poppins's young charges—are far more troublesome and annoying for a start. Each magical adventure they embark on with their nanny is clearly intended to be morally educational—when Jane breaks a doll fighting with her brother, Mary Poppins brings all the toys to life to admonish the children in the dark, sinister number "Playing the Game".
There's a harsh lesson too in Mary Poppins's unannounced departures, which happen at the end of both acts. Miss Andrew, Mary Poppins's replacement and former governess to Mr Banks, is a terrifying Tim Burton-esque villain who rules with a rod of iron and a bottle of cod liver oil. It feels more like a cautionary fairytale for naughty children than a Disney musical.
But the iconic songs written by the Sherman brothers are still there, refreshed by different settings that mesh well with the story. "Jolly Holiday" brings a 1960s acid trip aesthetic to a walk through the park, complete with giant flowers and a lime green dog. "A Spoonful of Sugar" is sung as Jane and Michael clear up a mess they've caused in the kitchen, while "Supercalifragilisticexpialidocious" is set in the words and letters shop belonging to Mrs Corry, a character who only briefly made it into the films.
Zizi Strallen is an irrepressible, rosy-cheeked Mary Poppins, smugly gliding up the stairs and casting twinkly glances at other characters out of the corner of her eye. Matt Lee impresses as cheeky jack-of-all-trades and narrator figure Bert, particularly when he hangs upside down over the stage, singing and tap dancing. Lucy Simmonds and Lewis Fernée charm the audience as the Banks children—Michael's amusing one-liners are particularly well delivered.
There are also excellent comic turns from Rebecca Lock as the highly-strung, theatrical Mrs Banks and Wendy Ferguson as grumpy cook Mrs Brill. The high-pitched wail that Ferguson emits when a valuable vase she has carefully dusted for years is finally broken is truly hilarious. Milo Twomey plays Mr Banks as a wry and recognisably modern working father, who is far too preoccupied with his job and salary to spend time with his children.
Bob Crowley's ingenious set designs are breathtaking—the Banks's residence opens up like a dolls' house and the backdrops look like storybook illustrations. There's plenty of stage trickery too, from the numerous items pulled from Mary Poppins's carpet bag to her sudden first appearance onstage. Even though the wires are clearly visible, the moment when Strallen takes flight over the audience is a real wow and a fitting climax to the show.
Matthew Bourne's choreography for the big set pieces is is excellent, with "Step in Time" a real showstopper thanks to its transformation into a tap number full of acrobatics and cheeky chimney sweeps.
Mary Poppins is a truly magical, charming show that is practically perfect in every way.
Reviewer: Georgina Wells