The Marvellous Adventures of Mary Seacole
Cleo Sylvestre
Rosemary Branch Theatre
(2011)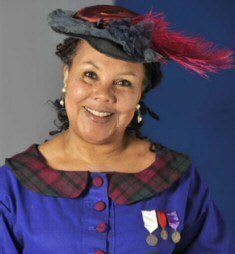 Mary Seacole, Creole daughter of a Scottish army officer and his Jamaican Creole woman, won the hearts of many British soldiers stationed in Jamaica when she tended them and saved lives, particularly during the cholera epidemic of 1850, and then in the Crimea during the War of 1853-6. The British authorities and Florence Nightingale's recruiter turned down the offer of her services, so she made her own way out to the Black Sea, where Nightingale again refused her help.
The war correspondent of the times, William Russell, described her as "a warm and successful physician, who doctors and cures all manner of men with extraordinary success. She is always in attendance near the battle-field to aid the wounded and has earned many a poor fellow's blessing a more tender and skilful hand about a wound or broken limb could not be found amongst our best surgeons."
Although her work was recognized by her contemporaries, Nightingale was the name the history books remembered. Forgotten for a century Mary Seacole is once again being remembered and in 2004 in an on-line poll was voted first among 100 Great Black Britons.
Cleo Sylvestre created this one woman show with director Judith Paris some while ago but this is the first time I have seen it. It is based on Seacole's own autobiography, published by Blackwood in 1857, so does not cover her later life and, of course, tells it from her perspective from how she learned to identify medicinal herbs as a little girl, picking them with her mother, to the horrors of war and epidemic and of the gruesome spectacle when she entered Sevastopol.
She tells her story using just her own resources as an accomplished actress and a very little help from red light and sound effects for the glow of fire when her home and family's hotel burn down and the sound and flash of cannon fire, and from a couple of hazy photographs of the battlefield and of London's river.
In playing Mary and occasional other characters such as her mother and British soldiers, to whom she became known as 'Mother' or 'Aunty" Seacole, Cleo Sylvestre creates a picture of a warm and caring woman whom you can't help but take to your heart. This is a life that has a great deal more to it than her work in the Crimea and it engages our interest with its detail. It does not present any broad historical overview: there is much that Seacole does not mention in her book, both of wider events and her own life, but with her box of Creole natural remedies she becomes a fascinating figure.
I could happily have spent much longer with this Mary Seacole than the hour the performance lasts and, although it is too late for you to catch it this time, it is worth looking out for the next time Sylvestre revives it.
Reviewer: Howard Loxton