Mary Stuart
Friederich Schiller, in a new version by Peter Oswald
Apollo Theatre
(2005)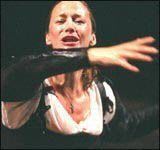 With this transfer of Phyllida Lloyd's staging of Schiller's battle of wills between the Virgin Queen and her rival Scottish captive, the West End now boasts three very different depictions of life at the English royal court, each drawing striking parallels with 21st century politics.
Richard II at the Old Vic is the Bard's coolly ironic view of the clash between a weak Plantagenet king and his Lancastrian usurper, a production that has the factions using TV soundbites to highlight their case.
Just opened at the Sound Theatre, Flanders Mare offers a comic take on the sex life of Good King Hal, but located in the New Labour world of Blair's Downing Street.
Newly at the Apollo in a gripping modern version by Peter Oswald, Schiller's Mary Stuart, written in 1800, plunges us into a murky world of fundamentalism and terrorist enclaves, here led by Rory Kinnear's fanatical Mortimer, while scheming political suits, using dodgy intelligence, stalk the corridors of power at Westminster.
In this case literally so. Elizabeth's ministers and civil servants are all dressed in smart Savile Row grey worsted and silk ties like a Tory cabinet, while the two Queens are a cut apart in sixteenth-century corseted costumes.
The principal cast members remain. But since the Donmar opening last July there have been some gains in the supporting roles. These include June Watson, who brings even more tears and tenderness to the nurse looking after Mary's every spiritual and physical need.
Paul Jesson provides a more compassionate Earl of Shrewsbury, while Paul Simkins takes over as Mary's well-intentioned guard at Fotheringhay Castle — in Anthony Ward's stark design, a gloomy brick-walled prison that confines the Scottish queen on dubious charges of treason against the English crown.
Both the programme's cover and the playbill 'cut to the chase' with a third act image of Janet McTeer as Mary, enjoying a brief, childlike moment of freedom in a heavy shower of rain, before her crucial and (as it turns out) fatal encounter with Harriet Walters' stern, unyielding Queen Elizabeth.
The meeting has no foundation in history, but Schiller's' scene drives to the dramatic heart of the matter: two queens determined to keep their thrones; cousins who rule neighbouring countries by divine right; but locked in a political struggle which can only end in Elizabeth's signature on Mary's death warrant.
These two performances seem certain to feature strongly in the upcoming theatre Awards season: McTeer a tall, golden-haired Amazonian with a lust for life, Walters as an embittered virgin dressed in the height of fashion.
Both are half in love with the elegant but duplicitous Leicester, given a fleet-footed performance by Guy Henry, a quick-thinking man who moves easily in both camps. But the contest is finally won by Burleigh, the English Lord High Treasurer who holds all the political aces in a brilliant, chilling performance by David Horovitch.
Finally, nothing in London theatre can match the superbly dramatic contrast between McTeer's radiant Mary, Queen of Scots, going to the scaffold dressed in a scarlet gown, accompanied by her loving confessor and her nurse, while Walters' Elizabeth, isolated and distracted by conscience, is reduced to penitential black before the final fade-out. This may not be history, but it brings to an end a powerfully compelling three hours of brilliant European drama. Don't miss.
Visit our sponsor 1st 4 London Theatre to book tickets for
Mary Stuart.
Reviewer: John Thaxter