Master Peter's Puppet Show / Angela, an Inverted Love Story /Renard
Manuel de Falla/ Miguel de Cervantes/ John Brande Trend/ Corin Buckeridge/ Neil Georgeson/ Igor Stravinsky/ Rollo H Myers
Third Hand
Rosemary Branch Theatre
–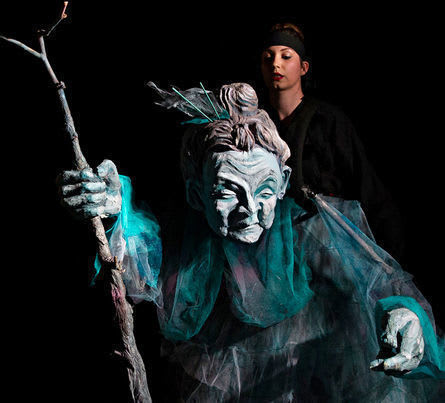 This is a triple bill of short operas all of which involve the use of puppetry.
Manuel de Falla's Master Peter's Puppet Show (El retablo de maese Pedro) and Igor Stravinsky's Renard (both commissioned by the Princess de Polignac and first performed in the 1920s) sandwich Corin Buckeridge's brand-new opera Angela, an Inverted Love Story, which is a world première.
Falla took his story from an episode in Cervante's Don Quixote in which the chivalrous knight gets so involved in a puppet show about an adopted daughter of Charlemagne who has been abducted by the Moors that he barges in to rescue the heroine and wrecks the theatre. After Peter, the puppet master, has welcomed the audience, his lad narrates the story as the puppets act it out.
When I first heard this on record years ago, I couldn't connect with it but hoped that seeing it performed and in English would make all the difference. Simon Bejer has created a lovely puppet theatre and there are some beautifully carved puppets but, though I love some of de Falla's other work, this isn't for me.
Directors Stuart Barker and Darren East have made it jokey with a smirking, camp Peter from Oliver Marshall and some deliberately crude puppetry to raise a laugh and mezzo-soprano Joanne Evans giving the Boy a Mumerset accent (in a role that launched José Carreras's career aged 11). If you like the music you may feel they have got it right.
Renard, based on a Russian fairytale, was originally staged by Diaghilev as a ballet with choreography by Nijinska. This production is full of fast and complex movement as a Fox tricks a cockerel he intends will be his dinner only to be finally outwitted by Cock's friends the Cat and Ram who get rid of him.
It is imaginatevly transposed here into a restaurant kitchen where the cooks add the syncopation of Stravinsky's score and created Cock from chicken, a red glove and a flash of yellow, the Fox from a rolled ham joint and sacking, the Cat from pots, a collander and a drain cleaner and the Ram from a mop and bucket.
It is surreally imaginative and the puppetry gives added humour, the story told entirely physically. It is impossible to decipher any of Rollo H Myers English text—but blame Stravinsky, not the singers. You could not ask for more imaginative production and design and it is fun.
The delight of this bill, however, is Angela, an entirely delightful opera, beautifully sung and easy to follow with a libretto by Neil Georgeson based upon a W S Gilbert short story.
A crippled Venetian artist falls in love with a girl he sees reflected in the canal below his window. She sees him and seems to respond. But the older man mistakes her interest; it is a young gondolier that she is going to marry.
It is beautifully mounted with windows that tip to become reflections, elegantly created puppets matched to live figures and some of the most delicate puppet control I have ever seen. This is a performance I shall cherish, marred only by a few awkwardly artificial phrases in the libretto.
Mark Nathan sings the artist, Rosie Bell Angela, Anthony Harris the gondolier and Oliver Marshall Angela's mother. Benjamin Cahn, Joanne Evans, Fagner Gascaldon and Cass Gascaldon join them as puppeteers.
Third Hand is a dedicated puppet opera company, the first it would appear. It is led by Stuart Barker of the Minotaur Music Theatre, Darren East, Associated Artist at the Little Angel Theatre, James Young of Charles Court Opera and Royal Opera House designer Simon Bejer.
Reviewer: Howard Loxton