Master of Mayhem
Julian Harries
Eastern Angles Theatre Company
Sir John Mills Theatre Theatre, Ipswich
(2004)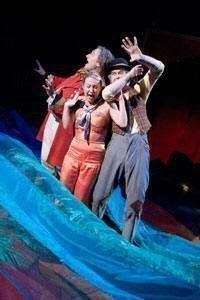 When the seat beside you at a Christmas show is occupied by an adult visibly brimming with excitement, your first thought is that they must be a close relative of one of the cast. But my theatre companion at Eastern Angles' eleventh Christmas extravaganza had attended the last seven, and evidently knew she was in for a treat. She could also smell the mince pies and fruit punch that were being warmed up for the interval.
Master of Mayhem is the tale of an heiress who runs away and joins the circus. To escape her dreary pampered existence and the unwelcome attentions of a local aristocrat, Grace Wentworth (Ursula Early) becomes a bareback horserider with Filbert's Circus, owned and run by genial old duffer Hugh Filbert (Julian Harries). Here she meets shy young Nikki Campari (Philip Benjamin), whose family high wire act is 'on the rocks'. She offers to help him conquer his hippophobia and join her equestrian act, though this receives an icy response from his fellow Camparis. There's a sticky moment, too, when the circus visits Grace's home village, and she's recognised by her motor-mad suitor, Lord Measley (Richard Mainwaring), but the girl has spirit and it seems her fighting words have sent him packing.
Meanwhile, all is not well with Filbert's Circus. Its lisping owner lives in constant fear of being wuined as his performers, notably the Great Gazpacho (Martin Belville), lurch fwom one cwisis to another, and to make things worse a series of stwange occurances leads him to believe that the fabled Master of Mayhem - an evil spirit that haunts circuses - is at large. But as with Shakespeare's Scottish play, a forfeit rhyme must be rehearsed, complete with actions, by anyone who pronounces the dreaded name, and it is only after much antic hair-pulling that everyone learns to refer to the mysterious presence as the 'Mm of Mm'.
Into this already fruity cocktail are poured a number of additional spicy ingredients in the shape of the circus animals. There's a performing elephant, invisibly brought to the stage by means of an ingeniously stiffened chain lead, and several helpings of dung dropped from a great height; Filbert's pet dog, Mrs Giblets, a hand puppet operated by various members of the cast, who performs the funniest song of the show with her master; and the circus lions, touching up their hairdos in the mirror while discussing, with clipped South African accents, the latest ads and gossip in The Stage.
Filbert's fortunes go from bad to worse when he unwisely decides to turn his fortunes around by featuring Mrs Giblets as the Canine Cannonball, a feat from which the hapless creature emerges shaken rather than stirred. Then there's the unexpected appearance of a freakshow run by the Mighty Krakov, who elbows Filbert's out of their usual space on the common before generously allowing them to park their caravans next to the clay pit. When one of Krakov's trucks shunts Grace's caravan towards the abyss, the showman is finally revealed to have been the Master of May the Mm of Mm all along, aka Lord Measley, whose bid to escape through the big top is foiled by the intrepid cannonball, Mrs Giblets.
Confusing? Absolutely! However, the five-strong company bring this lively parade of characters and animals to the stage with enormous energy, performing Pat Whymark's musical numbers with gusto as well as expertise. But the real Mm of Mm of the evening is Julian Harries. The deftness and wit of his writing and direction transform this anarchic mixture into a hilariously satisfying Christmas brew.
"Master of Mayhem" runs until 22nd January
Reviewer: Jill Sharp