Matilda The Musical
Book by Dennis Kelly, music and lyrics by Tim Minchin, based on the novel by Roald Dahl
Royal Shakespeare Company
Palace Theatre, Manchester
–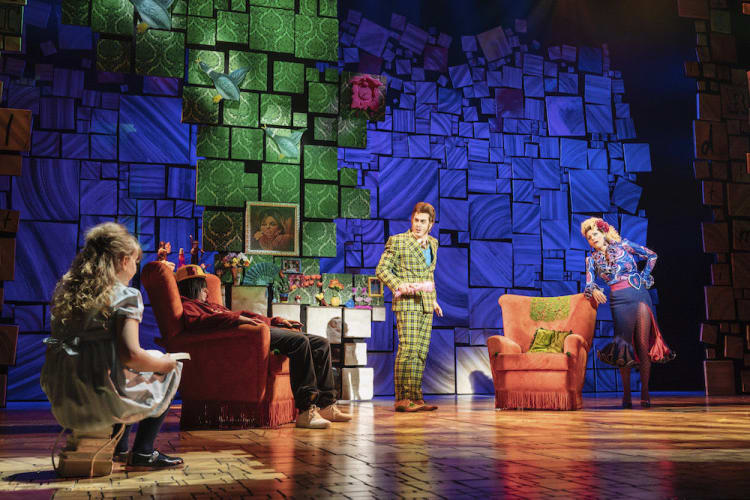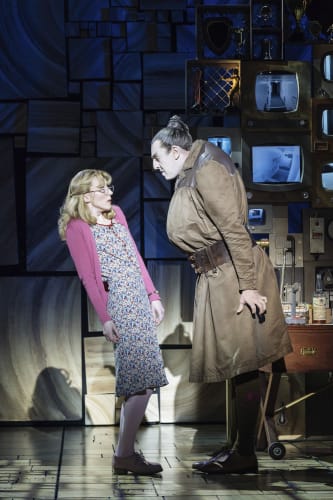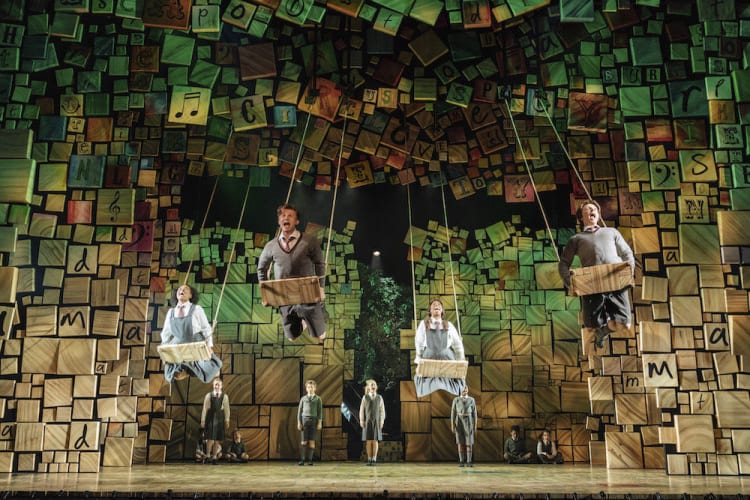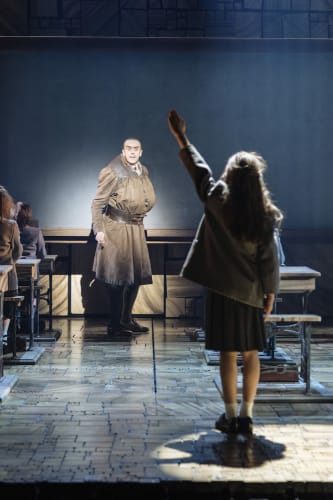 I've been waiting a long time to see this show since I first fell in love with the original cast recording some years ago, so an extra half hour while they got "most" of the set automation working (according to an entertaining announcement from resident director Phil Bartlett) wasn't too much of a hardship.
Tim Minchin's score is great—perhaps unsurprisingly for his first musical, you can detect some of his musical influences (some of Miss Honey's numbers could have come from the Sondheim of Company or Into The Woods) but that doesn't take anything away from a set of solid songs that work extremely well as musical theatre.
His insightful lyrics crackle along with wit and intelligence, touching on subjects that he has often examined in his solo work, such as science, philosophy and anti-intellectualism. I can even excuse some terrible rhymes for the brilliance of the ideas behind them—"largeness" can never rhyme with "Tardis", but I wouldn't want to lose the line for anything. Minchin's songs can have you laughing raucously and move you at the same time; anyone who hears the song "When I Grow Up" and doesn't have a tear in their eye isn't listening to the words—or hasn't grown up.
Minchin and book writer Dennis Kelly are obviously well-versed in Dahlian ideas and his approach to storytelling as there is not a moment in the show that couldn't have come from the pen of the master himself. Like a lot of Dahl's stories, it centres on a child, Matilda, who is intelligent but constantly abused by dumb or cruel adults.
Matilda's father (Sebastien Torkia) is a dodgy dealer who keeps forgetting she is a girl and believes the measure of a man is the size of his "Telly". Her mum (Rebecca Thornhill) is always rehearsing her Latin American dancing with Rudolpho (Matt Gillett), is horrified at the sight of Matilda with a book and preaches that looks are far more important that brains.
Matilda finds solace in the library, where librarian Mrs Phelps (Michelle Chantelle Hopewell) is engrossed in the stories that the little girl tells her, and then in her teacher Miss Honey (Carly Thomas), who also grew up unappreciated by a domineering aunt, who even stole her inheritance from her beloved late father.
Dominating everyone at the school is the vicious head teacher Miss Trunchbull (Craige Els), looking for excuses to punish the "maggots" in her school in imaginative ways ranging from swinging a girl round by her hair to threatening them with "chokey". She is a brilliant creation of an evil child-hating character, and Els milks her for all he is worth. But then Matilda discovers special powers, including being able to move objects with her eyes and telling stories she thinks she is making up that turn out to be true.
The show has all of the wit, nastiness, yuckiness, revenge and magic you would expect from Dahl expanded into something that has become bigger than its source. Typical Dahl, if there is a moral in the story it is directed more at the adults than the children, partly about the way they treat children and partly an indictment of the kind of small-minded populism that would produce a statement such as "we have had enough of experts".
After the delay, it took a while for the cast to be firing on all cylinders, and sadly some of the wonderful lyrics were obscured by a poor balance in the sound mix, but these are minor issues for a show that is probably the best new musical to appear in the past decade.
Reviewer: David Chadderton