Mating in Captivity
Oliver Page
Flo Taylor productions in association with We are Kilter
Kings Head Theatre
–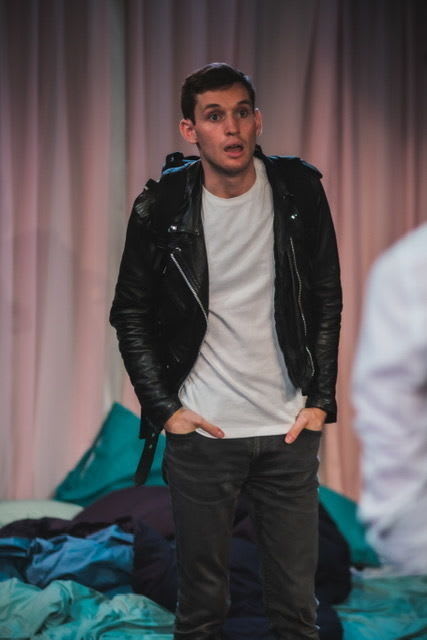 Rob and Annie are young and in love, so sure of their relationship that Mating in Captivity opens on their wedding night. The pair excitedly stumbling into their flat, drunk, excited and ready for a night of passion. Unbeknownst to Annie however, they have a house guest, a fact that had seemingly slipped from Rob's mind. Making himself extremely comfortable is Jacob, a blast from Rob's romantic past and a revelation for Annie.
An excellently matched cast, Jane Christie, Rowland Stirling and George Rennie trade in sarcasm, bewilderment and frustration as Annie, Rob and Jacob navigate introductions, confessions and plenty of gin. The trio bounce through Oliver Page's sharp script embracing the farcical but remaining loosely tethered to reality.
There are plenty of laughs here and Ed Theakston's direction ensures that the comedy is wrung as much from the physicality of all three characters as it is from the script. Channelling Jack Whitehall in Fresh Meat, Stirling's Rob is likeable but needy, a well-spoken bundle of nervous energy. His wild gesticulating is countered with Christie's quick-witted Annie, who moves more gradually through the emotional palette before the explosive grand finale. Often in the middle is Rennie's Jacob, alternating between embarrassed and knowing, an outsider who's not an entirely immune to the drama.
With a surprising beginning and an unexpected end, it's a difficult ask to maintain the high pitch and rapid pace but this production largely does so, only once dipping slightly which was more due to a repetitive section of script than the cast.
Occasionally crude and consistently witty, Mating in Captivity is a fresh production that kept the audience rapt.
Reviewer: Amy Yorston