Matthew Bourne's Swan Lake
Director and choreographer Matthew Bourne, music Pyotr Ilyich Tchaikovsky
New Adventures
Bristol Hippodrome
–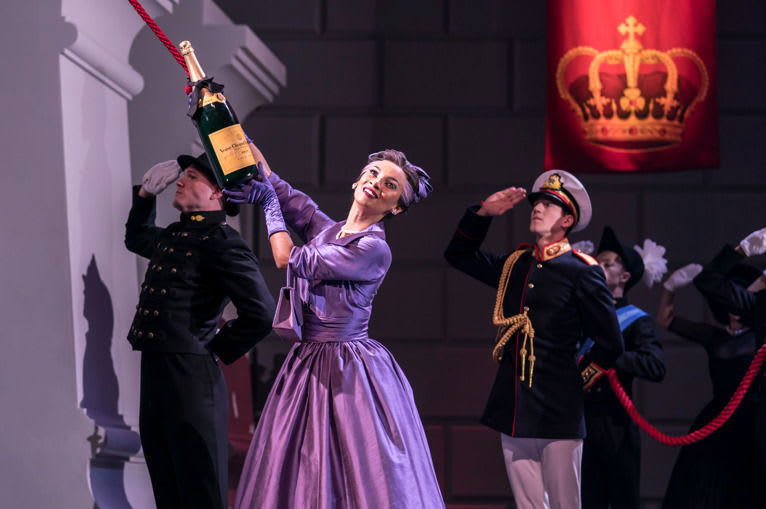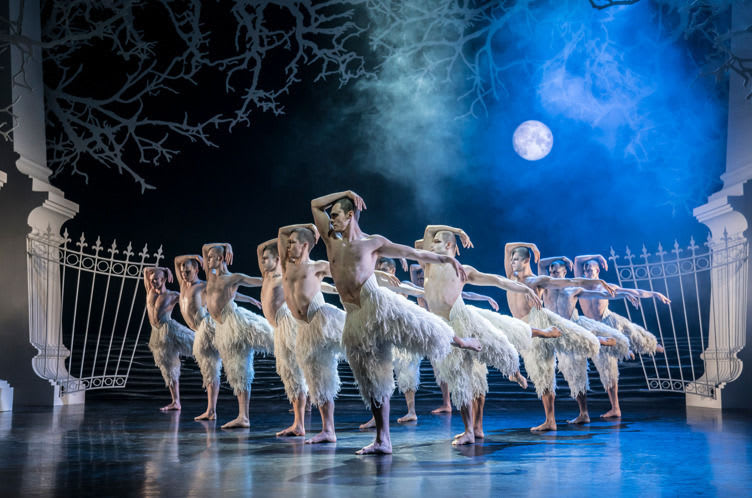 Matthew Bourne's bold reinvention of Swan Lake took the world of classical ballet by storm over 20 years ago, so can this show that enjoyed its West End première in 1996 still be as ground-breaking today? Back then it was those sensational male swans that grabbed the headlines; the traditional fluttering tutus of a female corps de ballet being replaced by bare-chested, menacing young men in feathered breeches.
Now this version has become a classic in its own right and Bourne has revived it for the 21st century, complete with new designs and some revised choreography. Astonishing as those swans still are, they're not now unexpected and, as attitudes have changed, the prospect of the Prince dancing with another male no longer holds the same capacity to shock.
Yet there is so much more to consider and what's immediately striking is the emotional depth of this production's storytelling, centred around the psychological trauma at the heart of the Prince's life. His relationship with his ice-cold mother, the Queen, is distant and empty; she has plenty of time for young guardsmen but little for her son. His daily routine is one of ribbon-cutting and ship-launching ceremonies: glamorous and polished on the outside, mundane and unfulfilling within. Little wonder the repressed, hallucinating prince is driven, first towards the arms of an over-excitable Girlfriend in the pay of his mother's private secretary, then to the contents of a bottle and lakeside despair.
This being a New Adventures show, designed by long-time Bourne collaborator Lez Brotherston, there's plenty of playfulness. The Prince needs the help of a troupe of valets to get out of his oversized bed in the morning, while a pet corgi on wheels snaps at the hand of his newly acquired starstruck Girlfriend. Then there's the show-within-a-show that sends up the overblown melodrama of a traditional 19th century ballet and a world-weary burlesque dancer who goes through the motions in a seedy nightclub, cigarette dangling from bored lips throughout.
On press night, Dominic North is lithe and graceful as the Prince, brim-full of yearning as he seizes on his mother's slightest touch, sagging with hopelessness outside the nightclub before being transformed by his encounter with the Swan. Nicole Kabera is chilly and unyielding as the stone-hearted Queen who prefers to find comfort in her courtiers' vacuous flattery and Katrina Lyndon brings a lightness to her comic turn as the empty-headed but endearing Girlfriend.
Of course, the arrival of the flock of swans in a moonlit city park is still the production's spectacular highlight, signalled by diaphanous cinematic projection and enhanced by the surging dramatic shift in Tchaikovsky's much-loved music combining with Paule Constable's ethereal lighting design. The energy and intensity of this all-male corps consumes the stage and Will Bozier's lead Swan is wild and menacing. Both defensive and poised to attack, he's a virile yet lithe and otherworldly creature who reveals the capacity for increasing tenderness in his technically accomplished pas de deux with the Prince.
Bozier is equally charismatic at the royal ball, arriving as the posturing and ruthlessly charismatic Stranger clad in black leather trousers. The Swan's human double (in the classic Odette / Odile role), he captures the hearts of all the female guests as well as the lovelorn Prince. It's a towering and masterful performance that informs the Prince's descent into violent madness and the tragedy it will bring.
Matthew Bourne's Swan Lake remains an unmissable event; more than two decades on, the soul-stirring grip of its unique fusion of dance and theatre shows no sign of diminishing.
Reviewer: Claire Hayes