Matthew Bourne's Highland Fling
Scenario by Matthew Bourne, music from La Sylphide by Herman Severin Løvenskjold, arranged by Allan Morgan
Scottish Ballet
Festival Theatre, Edinburgh
–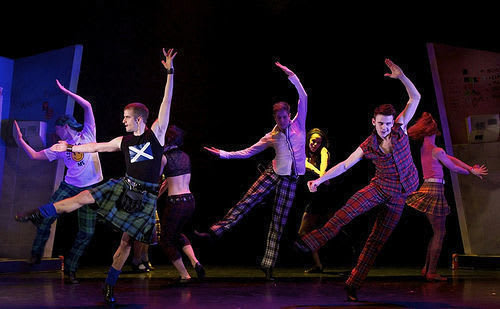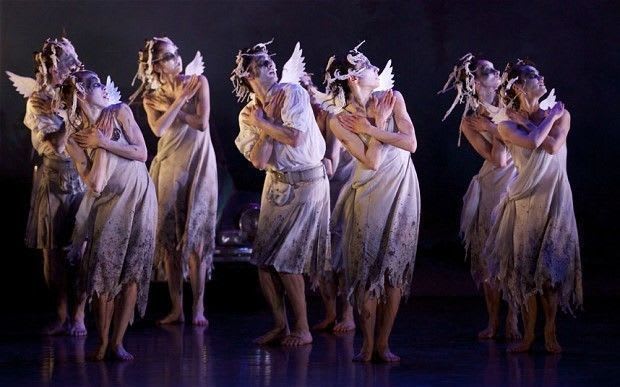 Matthew Bourne's Highland Fling, the contemporary version of the world's oldest surviving romantic ballet, is revived by Scottish Ballet. A rare occurence, as Matthew Bourne rarely lets companies other than his own, New Adventures, perform his major works.
Scottish Ballet certainly does Bourne's urban update of La Sylphide—a romance set in rural Scotland—justice and no doubt it helped that the updated setting is Glasgow, the city that Scottish Ballet calls home. The performers not only excel in terms of dance and movement but also in their acting, as this, like many of Bourne's works is full of very real, carefully drawn characters.
Indeed Highland Fling's characters are both gritty and exuberant, as is the set which begins with the stage one half gents toilets the other half ladies and they don't hold back in displaying the messiness of a really radge night out. You can totally imagine the loud, brash Glasgow accents to match the dreadfully gaudy tartan outfits.
It is quite daring, not so much in the drug-taking or sex, but in its sending up of Scottish stereotypes and unashamedly embracing the way Scotland is viewed. It really draws on Ron O'Donnell's 1987 painting The Scotsman (which can be seen in the Kelvingrove, Glasgow) and uses several of O'Donnell's ideas in the wall-to-wall tartan Glasgow flat of Act One, Scene Two with its Scottish paraphenalia.
James (Christopher Harrison) is the cocky, kilted protagonist, about to be married to the sweet innocent Effie (Katie Webb), when a Sylph, the delicately beautiful Sophie Martin, flies into his simple, straightforward drink and drug-fuelled life. James's constant attempts to make his friends aware of the presence of the slippery Sylph forms a long-running joke over act one.
While in the club there are many good group dances, including one featuring cans of lager being sloshed back, the action in the flat allows the individual characters to be fleshed out more. There is lots of fun soap opera-style action as they deal with their hangovers and prepare for the upcoming wedding. The attention to detail is such that you have to be constantly glancing around the Festival Theatre's impressive stage to check that one of the characters isn't up to some mischief or other while you were watching the other performers.
The Sylphides are ghostly gothic fairy creatures; with their dark eyes, feathers and sensual movement they are classic Bourne. In act two, James enters their world, a forest glade just outside Glasgow. There are some lighter moments with furry animals appearing around James and the Sylph as there romance blossoms, but act two is ultimately where the story turns sour.
A beautiful mix of the spunky young Glaswegians and light-toed woodland fairies, showing that even magical creatures can't resist the lure of a fit guy in a kilt.
Reviewer: Seth Ewin