Matthew Bourne's Swan Lake
Director and choreographer Matthew Bourne, music Pyotr Ilyich Tchaikovsky
New Adventures
New Victoria Theatre, Woking
–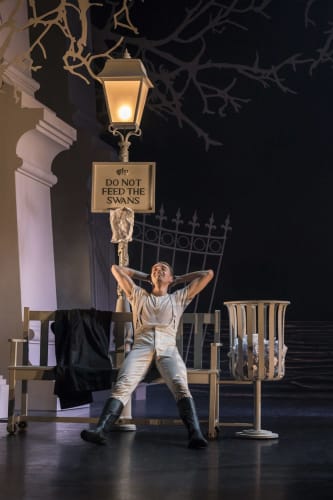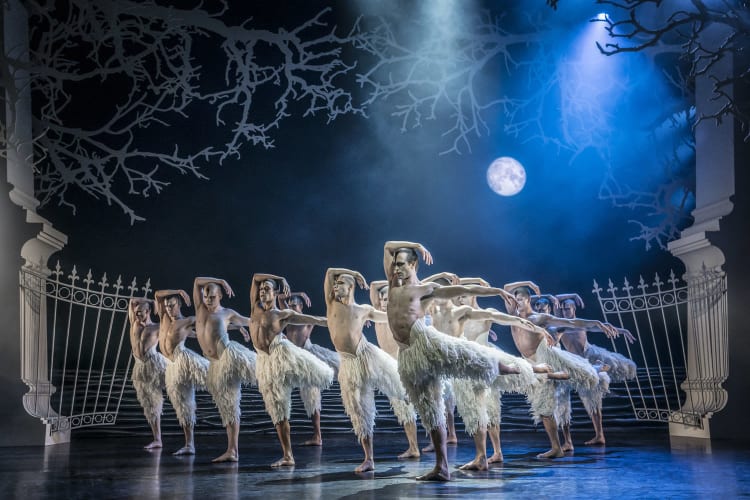 It is hard to believe that this version of Swan Lake was created over 20 years ago and probably changed people's attitude to ballet forever as well as causing a lot of controversy at the time. Male swans were one thing, but two men showing their love and affection for each other on stage caused many of the audience to walk out of the performance, even if one of the men was a swan. Happily, they plowed on, won numerous awards, and the show is still filling theatres to capacity all these years later.
It's a huge company—the logistics of touring it must have caused a few headaches—and performing every night at such a high level of expertise would be impossible, so every character has two or three dancers to take their turn. The night I attended, Dominic North had the role of the prince, an enormous challenge for acting as well as dancing, but North has no problem rising to it and he gives us a prince who is bored with his royal duties, yearns for some affection from his ice cold mother (a very regal Nicole Kabera) and through the story goes through shame, desperation, love, jealousy and on to the tragic conclusion. Oh, and he can dance too—superbly! The story begins as he lies in bed with with a huge swan towering over him menacingly. This, together with Tchaikovsky's music, sends shivers down the spine and gives a hint of what is to come.
The Private Secretary (in the original this was the Magician) introduces him to The Girlfriend and a we have a wonderfully brash and comical performance from an endearingly cheerful Katrina Lyndon who does everything unsuited to royal protocol, from her raucous laughter in the royal box at the antics of the Moth Ballet parody, answering her mobile in the middle of the performance before dropping her purse over the edge, and the final straw: taking money for befriending the prince.
There are other touches of comedy too from the hilariously bored burlesque dancer listlessly going through her routine with cigarette dangling from her lips and a corgi being walked brought giggles. There is also a change of style with the sleazy nightclub scene as the dancing and music change to a more upbeat rhythm.
The show has grown and evolved over the years while still keeping to the original context and now, with the help of modern technology as well as designer Lez Brotherston, Paule Constable's ethereal lighting and sound design by Ken Hampton, as well as Duncan McClean's exceptionally beautiful video footage, we are by a moonlit lake with waves rippling onto the shore.
Alone, friendless and in the depths of despair the prince decides that suicide is the only answer. But before he dives into the lake, a flock of swans arrive and burn up the stage with their energy and intensity as they hiss, stamp and glare malevolently at each other—savage, wild, strong and dangerous. Bourne is correct: swans are most definitely male. As quickly as they came, they have gone, leaving The Swan (Will Bozier), who regards this human warily, but attraction overcomes fear and culminates in the most beautifully sensual and affectionate pas de deux. The Prince tears up his suicide note!
Sadly, this is not the happy ending and a leather-clad Bozier turns up in human form as The Stranger at the Royal Ball rejecting the dejected prince and flirting outrageously with all the women, especially the Queen.
Groundbreaking in its time and not so shocking now, but this show so dramatic, so involving, and so intriguing with fabulous dancing, great acting and visually enthralling, it will probably go on forever and thoroughly deserved its standing ovation.
Reviewer: Sheila Connor