Matthew Bourne's Sleeping Beauty
Matthew Bourne
New Adventures
Sadler's Wells
–

Listing details and ticket info...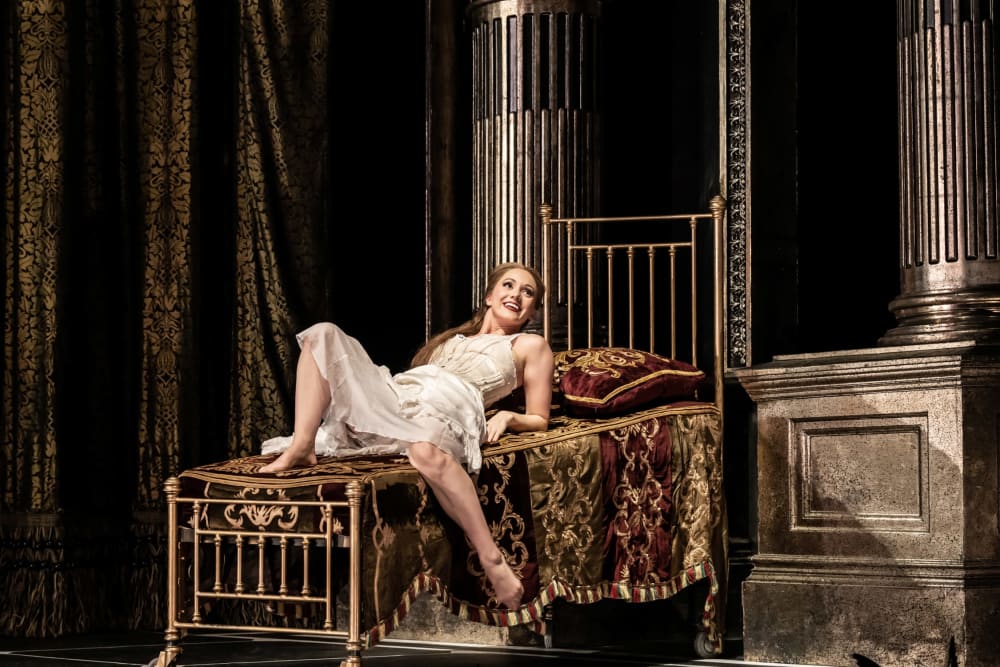 Summery elegance set off by vampish hellishness and strange puppetry makes for an unconventional plunge into the dark arts through the lens of a well-loved fable in Matthew Bourne's gothic take on The Sleeping Beauty, an acrid departure from sugary Christmassy dance fare.
As the familiar classical score of Sleeping Beauty strikes up (cut and recorded here), it works its magic and instantly draws us into the setting. In the original 1890 ballet, choreographer Marius Petipa capitalised on the sparse plot by layering exquisitely detailed movement patterns that mirrored the score.
I'm already visualising classical ballet repertoire with the sound of the first waltz, yet Bourne's choreography with its comical and filmic language of gestures doesn't always fill out the sweeping romanticism of Tchaikovsky's epic music. It does however offer swathes of melodrama and countless narrative back alleys enlivening Aurora's journey from babe in arms to amorous lover with legs wrapped around her man behind the garden shed.
From the minute we hear thunderclaps, baby cries and then evil Carabosse appears, it's clear that Bourne and his designer, Lez Brotherston, are not about to reveal a conventionally pretty tale of first love. Here, Aurora holds out for true love, not won by a first kiss, and even though her journey is arduous and borderline dodgy, especially the weirdly abusive scenes where gothic vampires pretty much practise non-consensual mauling in the castle of sleep, she remains until the last her own woman.
In Bourne's version, we open in 1890. A royal couple strike a deal with the darker forces of fairyland and make a baby. Welcome infant princess Aurora, first seen as wailing puppet, clambering up brocade curtains and staggering around the stage surrounded by a protective cluster of smiley, bespectacled, heavy handed fairies, donned in gothic tails and tatters, more reminiscent of Cinders before the ball than shimmering woodland spirits.
Swiftly moving on to 1911, the famous curse is cast as Aurora comes of age during an idyllic Edwardian summer—all tennis whites, cream teas and sunshine. A now adolescent Aurora (Ashley Shaw) is the show's shiny secret weapon. Shaw radiates real star quality with a magnetic force that dominates the stage when she's present. As the flirty teenager, Shaw taunts and teases the rest of the cast by darting in and out from behind curtains, jumping playfully and hiding her lover from the watchful eye of her fretful Nanny (Sophia Hurdley).
The bed as vehicle of pleasure and later on imprisonment serves as Aurora's trampoline in scene one as she sprawls backwards, splaying legs wide, throwing her boots and tights off in cheerful abandon, her every move is perfectly executed, pulling together classical and contemporary movement into a glorious expressive language that speaks clearly.
In love with the gamekeeper Leo (Andrew Monaghan), she flies across the stage full of youthful abandon and the Rose Adagio from the original ballet is recast as a lovers' duet. Shaw's Aurora here is met brilliantly with Monaghan's Leo as they sweep into embrace and carry out complicated lifts with ease and elegance.
The light-hearted mood quickly shifts as Carabosse's son Caradoc (Paris Fitzpatrick) looms moody and lanky with long, black mane and whitened face, an evil-eyed, gothic villain (booing in the audience) intent on creating harm as he presents the princess with the lethal black rose and later on attempts to sacrifice her, brandishing a samurai knife.
Staging and costumes are faultless thanks to Lez Brotherston's fairytale sets that glint and glimmer, enveloping audience into children's picture-book world of fairy-lit forests, wrought iron gates, summer parties with medieval palaces teetering on the horizon, while the devilish finale is draped in reds and carmines as we turn to the dark side in striking contrast.
The first scene moves clearer than the second, where the den of iniquity is a bit confusing as Caradoc holds court and attempts to marry his prisoner, before offering her up for sacrifice. He yanks and pulls Aurora about as if she is his pet and property, rather disturbing to watch even if it's delivered with tongue-in-cheek intention. Luckily, our princess never fully submits and is finally rescued by her prince charming, now both fully winged, saved by the fairies.
It's quite a melodramatic trudge to get to this point and, by the time Aurora is saved, I breathe a sigh of relief. We can all live happily ever after. Nasty Caradoc meets his demise and all is well with the world. Enjoyable Christmas fun, but lacking the deeply powerful resonance of other cherished Bourne blockbusters such as Swan Lake and Red Shoes.
Reviewer: Rachel Nouchi