Matthew Bourne's Cinderella
Sergei Prokofiev
New Adventures
The Lyric, Theatre Royal Plymouth
–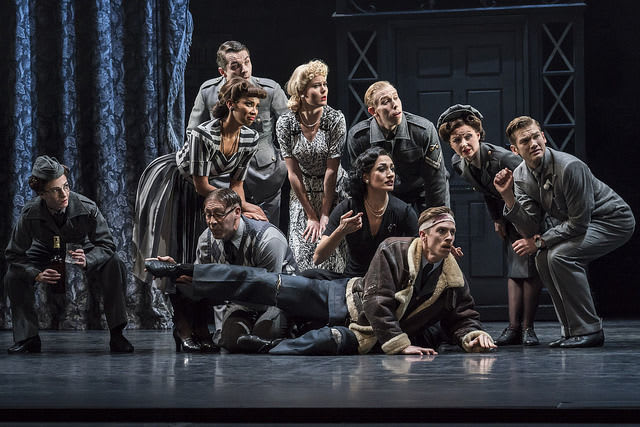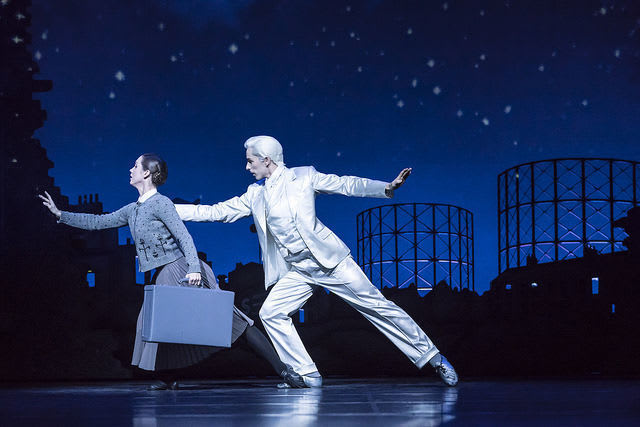 London's burning and debris, desperate sex and determination clots the air as Matthew Bourne revives his wartime romance Cinderella.
Inspired by the 1946 classic A Matter of Life and Death, and the realisation that Prokofiev composed the score during WW2, Bourne has created a blend of Hollywood cinematic glossiness and drab Blitz-torn Britain with a smattering of glitz.
Now Bourne has tweaked his 1997 creation to lessen the pantomimic gloss and ramp up the darkness of an already bleak premise. The ruined city is populated with gas mask dogs, wardens, thugs, sleazy prostitutes, rent boys, hoi polloi, partying Hooray Henrys, service personnel hindering the quest to find the departed owner of a sequinned shoe. Iconic landmarks are beautifully portrayed in Lez Brotherston's sets with the Embankment and Oxford Circus tube station of particular note.
Some superb balletic moments are augmented with rhythmic movement and walking about morphing the piece into a play without words and some dancing. But what dancing: set pieces aside, there are some stand-out moments with ballerina-wheelchair pas de deux, a fun pas de six and the engaging mannikin imaginings.
Cinders (a sweet light-of-foot Cordelia Braithwaite) is the bespectacled, dowdy daughter of disabled Army hero Robert (Alan Vincent doubling as MC Alphonso) and both are at the mercy of the dipsomaniac cougar Sybil (a dynamic Madelaine Brennan).
The dysfunctional family is extended from two not-so-ugly sisters adding foot-fetish slurky Vernon (Dan Wright), gay Malcolm (Andrew Monaghan) and plane-mad Elliott (Stephen Murray) living the high life as Cinders panders to their needs. Prince Charming is the shell-shocked pilot Harry (Will Bozier) and the ball is the doomed Café de Paris on the fateful night when a direct hit killed 34, injured tens of others and devastated the building.
High-leaping Paris Fitzpatrick glitters as the bright white-clad Angel taking Cinders to the ball in motorcycle and sidecar, and turning back time in a clever rewind while the talented company is showcased in cameo roles and crowd set pieces with acting skills honed as interaction, amusing asides and seedy shenanigans catch the eye and add depth.
Dark and brooding baggage-ballooned City landscapes,juxtaposition of Pathé newsreels, flickering public information film and the seamier side of a black-outed London channels black and white film with Brotherston's set and costume design muted grayscale and military uniform shades with the odd flash of colour predominantly blood red splashes appositely here and there.
Harnessing video and special effects, blending dream and reality, Cinderella is a dour but entertaining spectacle but, as ever with New Adventures, in great need of live music to complete the soundscape.
Reviewer: Karen Bussell