Maurice's Jubilee
Nichola McAuliffe
Pleasance and PW Productions in association with Wild Thyme and ATG
Opera House, Manchester
–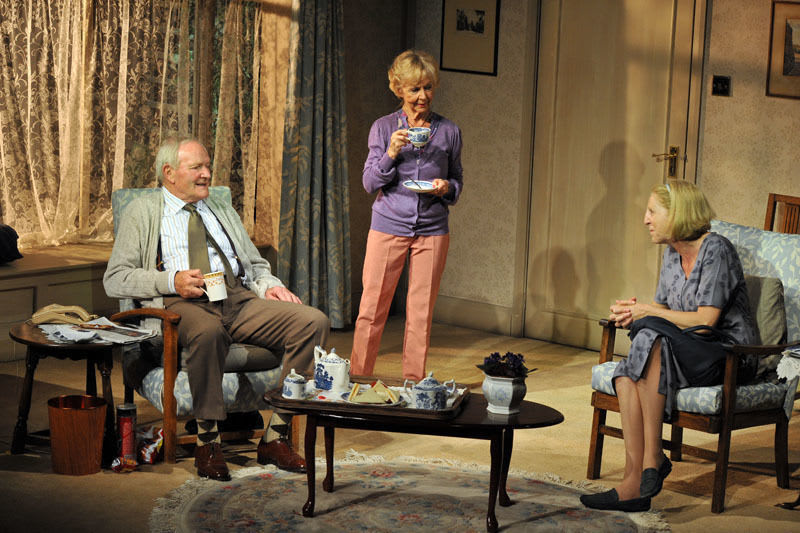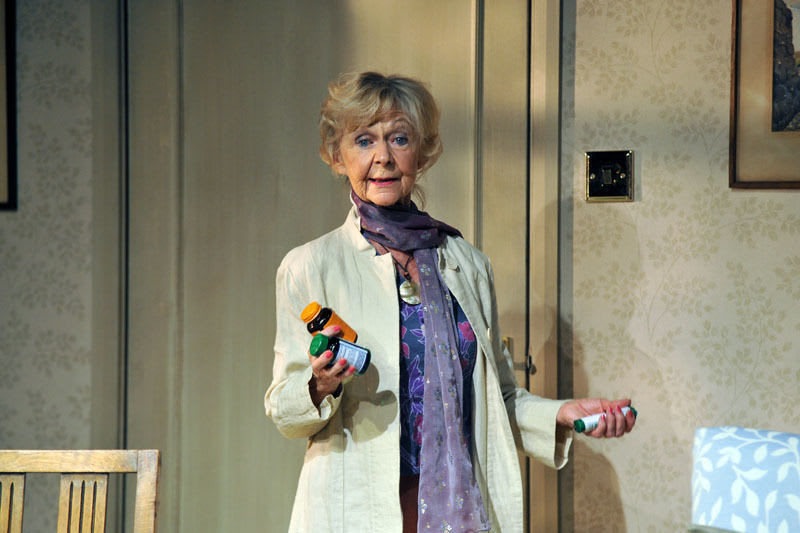 On the eve of Queen Elizabeth II's Diamond Jubilee, a man with terminal brain cancer reaches his ninetieth birthday by sheer force of will in order to keep an appointment he made 59 years ago—with Her Majesty herself.
As a high class jeweller, Maurice was put in charge of the Crown Jewels leading up to the Coronation on his birthday in 1953, even sleeping with them. According to him, the young Queen appeared to him and they talked all night, she made him tea—they even danced together to Ronald Binge's "Elizabethan Serenade", renamed in honour of the following day's event.
Ever since, Maurice has never stopped talking about what happened and about her promise to come to his house for tea 59 years later on his 90th birthday, the night before her Diamond Jubilee, so that he could make her something to convince her of the beauty of diamonds. Of course his family—wife Helena and son Ronald, the latter now sheering sheep in Australia—never believed a word of it and are tired of him going on about it.
As Helena and Maurice's new nurse Katy—"but," says Helena, "she looks more of a Doreen"—help him to prepare for a visit that neither thinks will happen. Will the Queen turn up? Or will Helena and Katy come up with a plan to fool the old man to make him happy in his last days?
McAuliffe's script contains some very good writing at times, but somehow it doesn't quite hang together dramatically, coming across almost as a revue of different types of writing glued together with a storyline. Some scenes come across as comedy sketches, whereas some are monologues of such length—especially Maurice's account of the incident in 1953 to a silent Katy—that they would stand alone quite happily as a short story but do not convince as natural dialogue.
This means that while some parts are particularly moving or funny, none of this is sustained across the whole play, and it occasionally clunks as it switches gears or becomes a bit dull during the transition to the next set piece. The resolution of the Queen issue is satisfying yet quite predictable but is delivered like a punchline in an old-fashioned blackout sketch, so the play—after another implied event which is also quite predictable and a little too neat—ends rather suddenly after this.
Aside from a few line fumbles, the three actors of Sheila Reid as Helena, Julian Glover as Maurice and Nichola McAuliffe as Katy (and possibly as another person) each do a fine job. There is a nice living room set of a middle class couple who have had to "downsize"after encounters with Bradford and Bingley and Northern Rock designed by Pleasance founder Christopher Richardson.
It is intermittently amusing, touching and lyrical with a few good witty lines but ultimately predictable and forgettable.
This production is part of an experiment by ATG to bring smaller-scale plays to the Opera House by dividing the house with a large black cloth and only selling the front stalls and circle. Although it was still as draughty as usual and they really need to do something about those creaky floorboards for shows that don't have highly-amplified music and dialogue, generally this worked very well for this show and made an audience of a few hundred in this vast auditorium feel like a full house.
Reviewer: David Chadderton