May
Written by Tim Crouch, conceived by Antonia Grove
Probe
Robin Howard Theatre, The Place
(2011)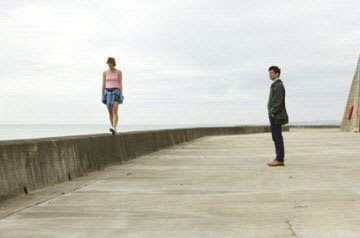 For her latest show, May, Probe's Artistic Director (one of the Observer's 'twentysomething overachievers') Antonia Grove, has assembled an exciting team of collaborators. Performing alongside her is Lost Dog's Ben Duke, whose powerful command of both text and movement make him a magnetic presence onstage. Director Pete Shenton co-founded and directs the New Art Club, who create hilarious and irreverent dance-works. Added to this is Tim Crouch - a writer and performer who always manages to unnervingly creep under your skin with his unique brand of dark and humorous new writing.
May is a bold collaboration between these artistic forces, a gentle show that makes you laugh out loud, squirm in embarrassment, and fleetingly feel for its protagonists.
Scott Smith addresses the audience, drily introducing us to this evening's readings of poetry by Douglas (Duke). We are a member of another audience to that we arrived in - we are part of a community or some sort of a self-help group who share slightly cringe-worthy music, words and art with each other in an attempt to deal with life's hardships or challenges. It's hilarious.
Douglas appears, dressed in conservative slacks and sleeveless jumper. He nervously fingers a handful of notepaper - his poetry - as he shyly attempts to begin his story of a damaged young woman named May. As he reads his poetry aloud, Grove takes on the character of May through movement, song and text. Accompanied by Smith on brash electric guitar and soft hums ,she immediately embodies the character of a young woman on the brink: edgy, angry and vulnerable.
Over the course of the next hour the company slowly weave together her sad tale, as told by Douglas, the timid social worker appointed to help her recover from her disturbing childhood. Subtly developed, it is an intriguing performance, with Crouch's distinctive style of eager storytelling propelling the action forward. Whilst rhythm needs injecting at times, the final ten minutes are hypnotic and heartbreaking. Duke and Grove gently wrap around each other's bodies with aching simplicity before exploding to throw across their limbs. Their duets are imbued with a hypnotic sensitivity, and powerfully depict the complex relationship in which the pair finds themselves.
Reviewer: Terry O'Donovan