Mayfly
Joe White
Orange Tree Theatre
Orange Tree Theatre
–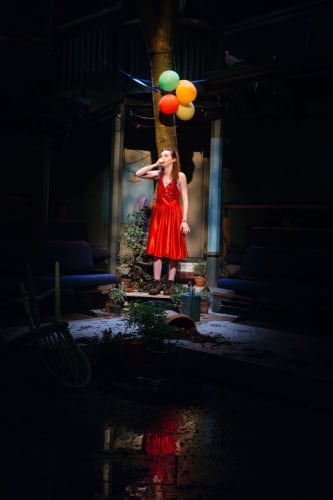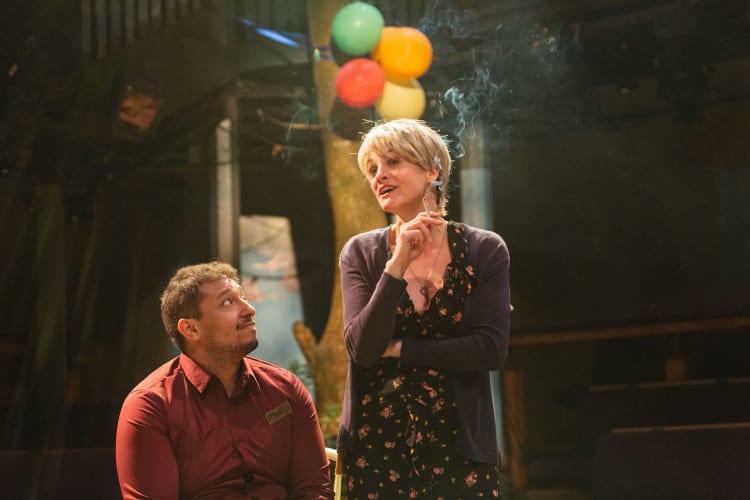 Set in a decaying Shropshire village, Mayfly is a show tinged with loss and a longing for past glories. Focussing on a family who are overcoming an, initially untold, grief we see on this May Sunday a day in the life of a father, mother and daughter who are barely coping.
For all the simmering emotion, however, it's not a maudlin piece; there's a surprising amount of laughs and Joe White's script delicately moves conversation from touching moment to humorous awkward exchange, each scene crafted to move the action of the day forward in a quirky but believable way.
This particular Sunday is an anniversary and a catalyst for change, or at least that's what Loops hopes when she buys a curry, puts on her mum's dress and heads to the pub to find her boyfriend. Not that he's her boyfriend yet or even remembers her from army camp but she has a plan and it's written in felt tip pen on her arm.
With swagger and belligerent attitude, Evelyn Hoskins is touching and funny as the seemingly confident Loops. Gifted with some of the best lines her comedic timing is excellent but she also brings a vulnerability to the role, the army camouflage a little too baggy, the bravado just a little too pronounced.
Irfan Shamji is delightfully gauche as Loop's nearly boyfriend Harry and a great foil to the rest of the family as the outsider continually drawn into their private drama. Genuinely likeable, he brings warmth to the otherwise cold farm and provides the grounding to the piece.
Cutting quietly tragic figures, Loops's parents Cat (Niky Wardley) and Ben (Simon Scardifield) are two people living parallel lives who speak without communicating, each in their private sorrow. As Ben, Scardifield shuffles around the stage, occasionally revealing a flash of previous personality, growing in confidence as his day improves. Wardley's Cat by contrast exudes a false confidence that easily crumbles. Their underplayed final scenes are the most touching of the play.
With a tree overhanging the stage, broken plant pots and upturned chairs Cecile Tremolieres's set depicts a place in a gentle state of decay and provides a backdrop to scenes in a pub garden, sheep filled hill and farmhouse kitchen. This is complemented by Christopher Nairne's sympathetic lighting design that bathes the stage in a fading light and surprises when dramatic blackouts are used.
One-act plays can often be frustrating to watch: too much crammed into a short time or a sketch-worthy idea stretched past the hour mark. Mayfly rests comfortably, a complete story with depth that doesn't outstay its 90-ish minute duration. A satisfying snapshot of a family at a crossroads and their unlikely saviour.
Reviewer: Amy Yorston