Matthew Bourne's Nutcracker
Music by Pyotr Ilyich Tchaikovsky, Original Scenario devised by Matthew Bourne, Martin Duncan and Anthony Ward
New Adventures
Festival Theatre, Edinburgh
(2011)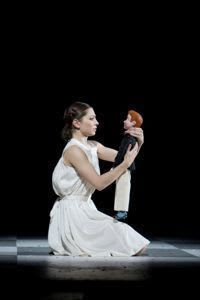 Although many theatres are seeing the pantomime invasion begin in time for Advent, this sugar-coated production of the Nutcracker truly encapsulates the Christmas spirit; colourful, romantic and tasty, a present for everyone.
Matthew Bourne's retelling brings to life a gloriously fun sweetieland like Oz, though the Technicolor brilliance is magnified by beginning the story in a much duller setting. Little Clara (Hannah Vassallo) starts off the piece in an orphanage ruled over by the ghastly Dr Dross (Daniel Wright) and his wife (Madelaine Brennan), a quite Dickensian scenario although it could also be compared to Dahl.
Bourne's humour still shines through even this grim world, particularly in the Dross's spoilt offspring Sugar (Ashley Shaw) and Fritz (Dominic North) as they show off in front of the orphans and steal their presents, with their wonderfully wicked childish facial expressions. Indeed, North stays very much the comic interest throughout: later as Prince Bon-Bon he is equally brattish and ridiculous.
Once in Sweetieland, there is plenty of other comedy, from the Humbug Bouncer (Daniel Collins) and the saucy spivvy Knickerbocker Glory (Adam Maskell), who seems to be everyone's favourite character as he tries to entangle Clara in his velvet clad bendy legs.
Vassallo with her mischievous smile and large eyes is perfect as the little girl in search of her crush, the Nutcracker, a charming Chris Trenfield. Together they perform some great romantic scenes. Indeed it comes as a surprise to realise that the cast rotates around the parts to quite a considerable extent, keeping this extraordinary production exuding the energy and freshness it undeniably needs.
The men get the chance to show off quite a bit of flesh and they are all very strong dancers; indeed with the rotating cast you are left wanting to see what the other men's Nutcrackers would be like.
The icing on the cake was a delicious waltz on a cake with most of the cast arranged on the tiers dancing around the huge candle poles, one of many great visual images that you get from this feast for the eyes as well Tchaikovsky's feast for the ears.
Ends Saturday 3rd December and continues on tour
Reviewer: Seth Ewin