Marlon Brando's Corset
Guy Jones
Yvonne Arnaud Theatre, Guildford
(2006)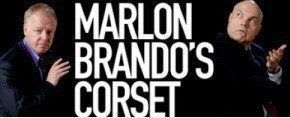 Almost everyone derides today's celebrity culture and its false values, but that doesn't stop people trying desperately to become celebrities themselves, and where will it lead them?
This fast paced show is set in the Green Room of a block of television studios and Morgan Large's design includes a raised platform supported by piles of what I took to be scripts (a suggestion from the author perhaps). It concerns a soap opera Healing Hands and its hospital setting involves medical procedures including amputation as well as the usual dramas of relationships inherent in such programmes. How will the cast feel when they have to actually dismember a real body and, most important, if this should come out will the scandal affect their careers? They have their priorities!
This show is "from an original concept by director Ed Curtis" – (isn't that how Coronation Street began?) and here Mike McShane is the director who believes he is in charge of the universe and is holding everything together – a task as difficult as that of the corset in the title – keeping artistic control while acting as father figure, confessor, nursemaid and counsellor to his troupe of ambitious but insecure actors, who squabble constantly about their relative importance. "Don't; think of me as your director – think of me as your God!" he says and, encouragingly, "You are the modern gods – what will you do with that power?" What indeed!
The writer, Nick, is expertly portrayed by Les Dennis, desperately trying to write the next episode while being badgered by actors complaining about his script. He wears a crumpled suit, but types on a very trendy white Mac iBook - writing 'soaps' to make money but disillusioned with this work and intending to one day produce something more worthwhile. Hopefully this is not an autobiographical tale as Dennis' character is now into gambling and has massive debts.
The necessity of keeping the show moving along swiftly did cause some rather garbled delivery at the beginning, a lot of the difficulty being caused by the laughter from the audience – it is a very funny show – but the actors need to time their lines to take account of the laughter while still keeping the pace – not easy, I grant you, but no doubt they will have perfected timing and delivery by the time they reach the Edinburgh Festival where the show should do extremely well with so many actors and directors able to see echoes of themselves in the characters – although being part of the theatrical world is not necessary to appreciate the humour
Jeremy Edwards is Will, the leading man in the TV drama Healing Hands. Written into his contract is the fact that he has to remove his shirt at least once a week, and he is very conscious of his attraction as a sex symbol, so the information that Nick is about to publish will be devastating – or so he thinks – leading to confrontation, explanations, rising tensions, uncontrollable anger and – wham! – one dead body and the director faced with yet another problem, how to get rid of it. He deals with this in true 'director' fashion – gathers his cast together and asks for ideas, but insisting "We must focus – we have a TV show to make!"
Well written, well directed and extremely well performed – this is their world and they know how to behave in it – with the characters having just the right amount of exaggeration to make the show funny, but still believable - well almost! Jim Field Smith is petulant actor Jack with a hilarious mime of his problems adding to the comedy (thankfully not overdone), Kellie Ryan is Sarah trying to manipulate the writer into giving her a more substantial part, and Jennifer Tollady is Alyson, the almost sensible one of the group.
A hilarious show, but with some pertinent questions. Why, for instance, does Nick, unable to sleep, find himself watching the contestants in Big Brother at 3 a.m .all fast asleep?
Reviewer: Sheila Connor