McGonagall's Chronicles
Gary McNair
A Play, A Pie and A Pint, Òran Mór
Traverse, Edinburgh
–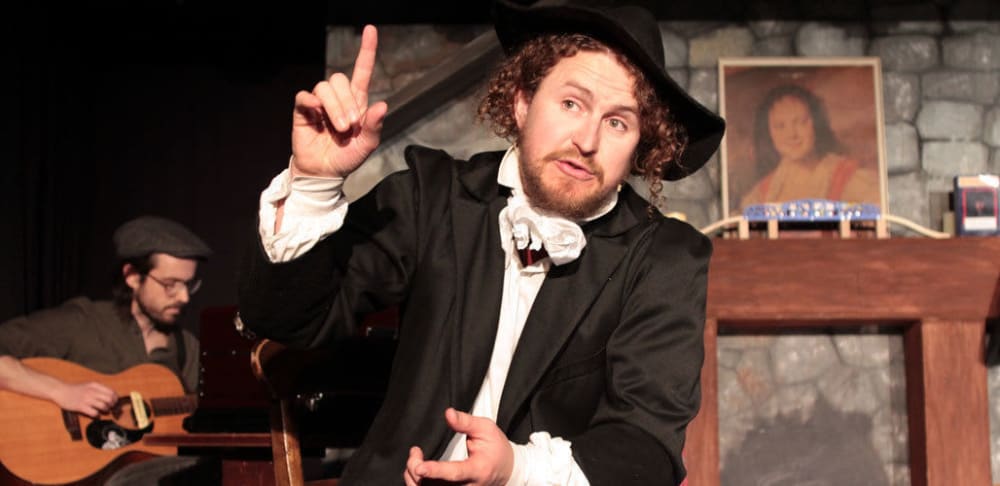 It is not often you get to hear a play written entirely in doggerel,
And not just the play, the programme and review and all,
But it makes sense when the subject is William McGonagall.
Written and performed by a showman with much flair,
Traverse associate artist Gary McNair.
McNair has quite clearly much research done,
While his Locker Room Talk is playing in Traverse One.
The Traverse's acclaimed playwright and comedian
Gives an insight into Dundee's poet and tragedian,
Though William was born in an Edinburgh tenement,
And by his parents he was of Irish descent.
The family moved around often forced into leaving,
Though they settled in Dundee thanks to the weaving.
McNair weaves well too, their travels at pace,
Would most likely have been caused by their Irish race.
So McGonagall who went on to suffer quite awful abuse,
Had been immuned to it early, like measles, in youth.
Brian O'Sullivan and Simon Liddell also do their share,
Adding musical accompaniment to Mr McNair.
O'Sullivan also acts and in rhyme to be fair.
This allows conversation and makes the show less hollow
Than just one man on stage going solo.
The strengths of the production are its facts historical,
It's funny but mostly it's really quite tragical.
There appears to be somewhere a search for a moral,
For the guy who walked all the way from Dundee to Balmoral,
In an deluded attempt to get by royalty seen,
But all he got was a polite FO from the queen.
McGonagall wrote poetry almost like he had an itch,
But he never succeeded in making himself rich.
Ridicule, jeers and humiliation right to the grave,
Maybe he deserves some credit for being brave.
McNair gets the audience to pelt him with veg,
Somehow since death he has become quite a 'ledge'.
Reviewer: Seth Ewin