McQueen
James Phillips
Robert Mackintosh, Amir Ltd, Hilary A Williams, Deborah Negri and Julian Stoneman
St James Theatre
–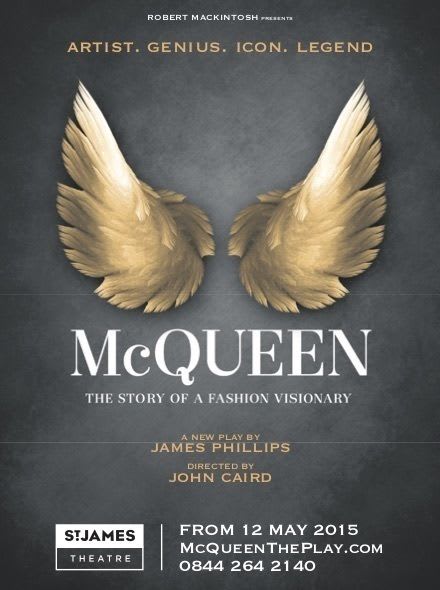 Designer Alexander McQueen's harrowing suicide a day before his beloved mother's funeral is well documented.
It's an extremely sad ending for a man who epitomised everything good about British fashion through his ground-breaking, innovative and world-renowned designs. It's without doubt that his legacy is the positive contribution he made to the fashion industry worldwide, future fashion designers and, of course, all of our wardrobes.
James Phillips's McQueen at St James Theatre is described as a voyage into the creator's imagination. It's true from the beginning there's a hint of a troubled, talented perfectionist at odds with himself, the world and his delinquent muse for the evening Dahlia, played by former Glee cheerleader Dianna Agron. But, despite this glimpse into what might have been going on in McQueen's mind, I doubt greatly it actually touches the sides of what was clearing a largely limitless, exciting and provocative imagination like no other.
In many respects, that's where much of the imagination starts and ends. Intentionally, there's little sense of the real Alexander McQueen story throughout. It's much more of an abstract journey taken by the troubled designer and Dahlia, a girl who breaks into his new pad and convinces him to allow her to join him for one night only. Together they take a whistle stop tour of London, dropping off at the tailor's where his career began before ending up on top of a grubby tower block in East London.
There's a striking resemblance between McQueen and Stephen Wight who plays him, but the self-pitying mood he's in for much of the one hundred minutes is a less familiar trait of the designer known for his no nonsense, grounded and down to earth way of working. Despite this, Wight captures his clearly wacky and at times irrational, troubled state of mind perfectly.
Along the way, McQueen and Dahlia cross paths with various characters including Isabella Blow, played by Tracy-Ann Oberman. As a hugely influential figure in his life, the conversation from beyond the grave with Blow is categorically the single most touching moment in the play. Both show their true vulnerability and respect for each other, mixed with humour and other believable human emotions.
The snippets of reality dripped amongst the random monologues and self-indulgent rants will just about keep you awake and intrigued until the end. However, if they don't, the fabulous music taken direct from McQueen's catwalk shows certainly will.
A simpler, less abstract show with more of his story would have captivated a generation of fans and guaranteed this play a worthy addition to the legacy of Alexander McQueen.
Reviewer: Thomas Magill