Measure for Measure
William Shakespeare
Guildford Shakespeare Company
Holy Trinity Church, High Street, Guildford
–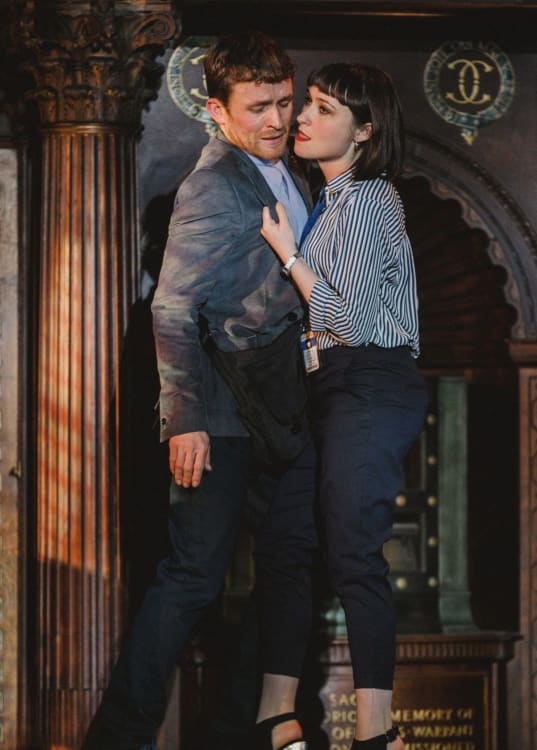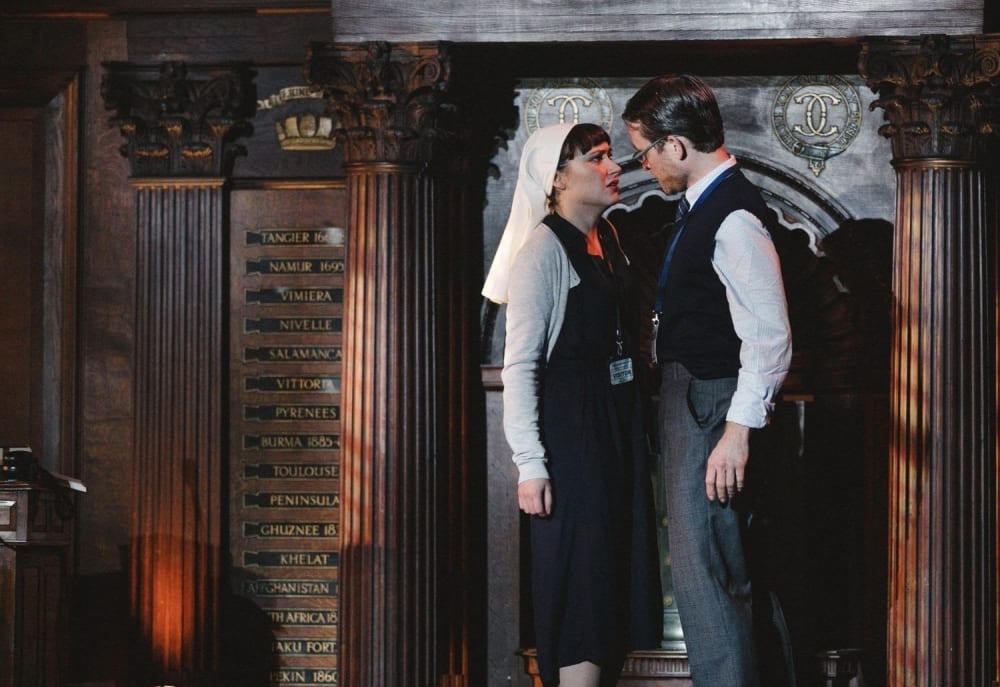 Trust Guildford Shakespeare Company to produce a play which, although 400 years old, they are managing to present with a brand new and exciting twist giving the actors a challenge (and plenty of exercise) as well as testing the mental capacity of the audience to work out all the relationships.
They have taken Shakespeare's Measure for Measure and performed the whole play twice over, the second time reversing the gender of some of the characters, and it is absolutely amazing how the change completely alters perception and judgement. Both performances have exactly the same text and actions yet seem so very different. The idea of a man in power seducing a woman is, sadly, no surprise, then as now, but when a powerful woman is seducing a reluctant man, it seems much stranger and a man protecting his virginity seems unnatural.
Often known as Shakespeare's 'problem play' and regarded as a comedy, it is not often performed, possibly because none of the characters comes out well, but it focuses on justice, morality and purity and brings the conundrum: ought a nun / young priest give up virginity to save the brother's life, or is purity of body and soul more important?
Duke Vicentia has handed over governance of the state of Vienna to Angela (Hannah Edwards) before leaving for Poland, but remains nearby in disguise to see how she copes. She relishes her new position of power and decides that sex outside marriage must now be against the law. Claudio, who has broken this rule, must die. Claudio's brother, a novice priest, pleads to Angela to relent but, with the double standards that many men employ, she is not above seducing him with promises to rescind Claudio's death sentence if he complies.
Watching Graeme Dalling acting as a woman, frightened, helpless and trembling, makes him seem weak and wimpish whereas we would sympathise with a woman acting in the same manner. When, in the second performance, the situation is reversed and Dalling is now Angelo with Edwards as Isabella, the whole affair seems perfectly natural and much easier to understand. There's something wrong with the world!
The whole body of this magnificent church is used for this production with audience at tables or in rows and there are three separate stages, not including pulpit and lectern, so it involves twisting around to each focus point—not a hardship. The actors, on the other hand, are constantly on the run—up, down, around and in and out. You have to be fit for Guildford Shakespeare Company. Director and adapter Charlotte Conquest, no stranger to this company, has again worked her magic and the whole clicks together like well-oiled clockwork with Neil Irish, Mark Dynock and Matt Eaton (designer, lighting and sound / composer) adding their considerable talents to the illusion.
Performances as always are superb, but I would say the undoubted star of the show is Sarah Gobran bringing some comic relief to the proceedings as Pompey, a very happily provocative prostitute, as well as taking the sober role of the Provost. How she manages so many quick changes from flamboyantly colourful garb (and what fantastic shoes) to the sober suit of the Provost was an extra topic for conversation afterwards.
Very close behind her in the 'starring' quality is Hannah Edwards, outstanding as a modern powerful woman and a complete contrast when she is nun Isabella pleading for her brother's life. A woman seems to plead better than a man. Something wrong there too! Both women also have remarkable clarity of speech, easily overcoming the occasional difficulties of the venue's acoustics.
Transferring a Shakespeare play to today's world is not new, the bard wrote more about human nature than anything else and that has never changed, but I would never have believed that gender swapping could have such a profound effect. The whole show is a triumph of ingenuity, inventiveness and experimentation, bringing something completely new yet without changing a word. This is a production which will probably be discussed, argued over and talked about for years to come.
Reviewer: Sheila Connor