Meat
Matt Harris
Odd Man Out and REDNec
Lion and Unicorn Theatre
(2010)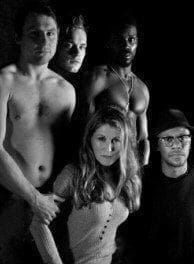 Meat was inspired by a short story by Tennessee Williams called Desire and the Black Masseur. It is apparently a free adaptation that expands the original. I can't comment on that for I have not read Williams's original but what we get is an intriguing study of cross-colour sexual desire and homophobia.
It jumps from a childhood friendship in the yard of a home in the American South to an adult ultra-PC world in an office in 2020 Britain with the same characters grown up. As both boys and adults the pair appear in scenes watching movies in a cinema and other incidents take place in a massage establishment which, if the receptionist is anything to go by, caters for a homosexual clientele.
Which bits, if any, are real and which imaginary? Director Vernon Douglas doesn't give us much help in deciding, nor does the voice-over chorus that the writer introduces help much either. Perhaps it is all taking place in one person's mind.
Little white Ashley (Ben Walton) is obviously fascinated by Lloyd (Marlon G. Day), the black kid from across the tracks, already well muscled and very fetching in dungarees and a straw hat tilted over his provocative eyes, though presumably not then being aware of the sexual element involved. It seems real until we are suddenly presented with an older Ashley (now played by Nicholas Clarke) who from the start has actually been slumped over a desk behind them sound asleep.
We are now in a very British office where little lad's nagging mamma is metamorphosed into his bullying boss Maggie (Virginia Byron). She is making very explicit advances to her unresponsive employee, the grown up Ashley. The chorus figure is there too as an administrative worker Trevor (Nathan Clough), like some sort of recording angel. Lloyd is a new employee to whom Maggie transfers her attentions while Ashley is subjected to mounting accusations of improper behaviour in what rapidly develops into a Kafkaesque nightmare. Perhaps this too is one of narcoleptic Ashley's dreams. The ridicule of political correctness taken to extremes is pretty heavy handed and, apart from some camp flicking of a blonde wig as Lloyd is transposed to the massage parlour reception, the production takes itself very seriously. With a lighter touch it might have been very funny, surely references to the colour of semen in a PC context are intended to raise a laugh
Serious it may be but it balks at nudity and playing the sexual episodes full out without finding an effective stylization. Bible bashing takes on a new meaning when Lloyd turns on Ashley to 'save' him but if these images are to carry the impact that is clearly intended they need to stand out more starkly against the satire on attitudes to race and the thought police.
Meat here clearly has several meanings that hardly need clarification but the play does need more work to bring out its powerful conflicts from a current confusion. Perhaps then it might even be possible to see the purpose of pitching Christian cannibalism into the picture, for this is a study both of repressed desire and guilt and of oppressive correctness and fundamentalism..
"Meat" is at the Lion and Unicorn until 27th November 2010
Reviewer: Howard Loxton