Meet the Mukherjees
Tanika Gupta
Octagon Theatre, Bolton
(2008)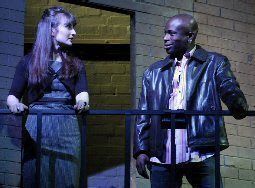 The Octagon Theatre in Bolton continues its fortieth anniversary season with a newly-commissioned romantic comedy by Tanika Gupta.
Anita is a successful solicitor, a partner in a small law firm, but her widowed mother Chitra is worried that her daughter is having too many boyfriends and, at thirty, may be getting too old for marriage. Anita meets Aaron, and after initially rejecting his cheesy chat-up lines they begin a passionate affair. However when their families find out, it raises strong prejudices and exposes traditional stereotyping between black and Indian peoples.
Director Mark Babych has assembled an extremely strong cast for this enjoyable comedy. Pooja Ghai and Rokhsaneh Ghawam-Shahidi, who recently played mother-in-law and daughter-in-law superbly at the Lowry in the National Theatre tour of Rafta Rafta, are wonderful again as mother and daughter in this play. As Caribbean bus driver Neville, Aaron's father, local favourite actor Wyllie Longmore plays this laid-back character just perfectly, and never lets a funny line escape without getting a laugh from it. Anni Domingo gives a powerful performance as Neville's wife Leticia, the other strong mother with deeply-set opinions, and Mark Springer is suitably arrogant without becoming unsympathetic as their son Aaron.
Nicholas Khan has a great double role as the ghost of Chitra's husband Montu and Montu's arrogant, inflexible and lecherous brother Raj. Young actor Ayesha Gwilt is absolutely wonderful as Aaron's teenage daughter India and often steals scenes from much more experienced actors. Keeley Forsyth is very intense as Anita's flatmate Fran, but occasionally seems a little uncomfortable in the part.
Tanika Gupta's script deals with some delicate issues about racism and racial stereotyping by older members of non-white groups in the UK, but although it doesn't pull many punches, it can't be said to be offensive at all. It has some rough edges with, occasionally, some awkward dialogue and some scenes that end oddly, and the second act is a little overlong. However it is a charming story that is often extremely funny as the plot slowly unfolds.
Mark Babych's direction keeps everything moving nicely along at a reasonable pace while allowing these superb actors the space to get the most out of the comedy, and the more serious moments. Patrick Connellan's set is subtly versatile to represent the different locations, apart from Anita's bedroom raised up on the upstage platform that makes a very bold, very orange statement with the all-important wardrobe at its apex.
This is an excellent production of a very enjoyable and intelligent comedy that raises plenty of issues to keep you thinking while keeping you laughing.
Playing until 24th May
Reviewer: David Chadderton