Melody
Douglas Maxwell
Traverse Theatre Company
Traverse Theatre, Edinburgh
(2006)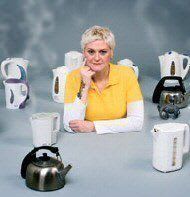 Douglas Maxwell's latest play for the Traverse is Melody; a surreal morality tale about exploitation; it's John-Waters-style kitsch with a pinch of Waiting for Godot thrown in for good measure.
The story is about title character Melody (Lynn Ferguson), a middle-aged woman living with her much-younger boyfriend John (Bryan Lowe), ex-mother-in-law Olive (Una McLean) and a dark secret in her past. So far, so standard. But when babydoll goth Ashley (Mhairi Steenbock) shows up at Melody's door and is invited in (they think she's the new home help) Maxwell's plot kicks off with a near-literal bang.
John Waters' body of work is probably the best frame of reference for this work, which is filmic rather than theatrical in nature. In fact, Trav 1 feels a bit large for the claustrophobic siting on the outskirts of Glasgow where the action takes place, but audience members who sit near the front should be able to pick up the subtle changes in mood and performance as well as the larger ones. Lorne Campbell's direction reminded this reviewer of scenes from Cecil B DeMented, especially in Steenbock's performance.
The acting style alternates between naturalistic and camp, and it's not always clear whether this is intentional or not. It does blend well with the kitsch writing and Jon Bausor's design.
Maxwell raises some interesting questions regarding victimhood and what happens to a person who is the last resort of their friends and family, but these issues are only really illuminated in the latter third of the play - although hinted at earlier, their exploration earlier on might have allowed more space for the viewers and the play's characters to draw conclusions. The script is well-paced and the show keeps one's interest, although some of the phrases and metaphors like 'he opened my cage' (in reference to an absent prime mover) seem laboured - though again this could be due to delivery on the night and could possibly improve over the run of the show.
The plot is soap-operatic and slightly transparent, but for audience members whose taste runs toward this genre, Maxwell's Melody is certainly a more engaging and universally accessible story than previous Traverse outings into underprivileged Central Belt Scotland.
.
Reviewer: Rachel Lynn Brody