Memoirs of a Biscuit Tin

Maison Foo
The Georgian Theatre Royal, Richmond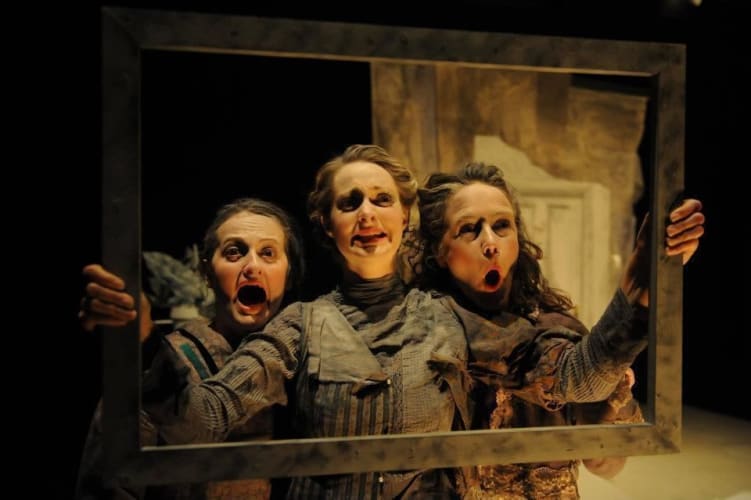 How many times have you heard that old adage: "I bet this old house could tell some stories."? This production does precisely that, giving voice to three characters: Chimney, Wall and Floor, three neglected and dusty women who are searching for their owner.
Floor (Kathryn Lowe) shuffles in, and, carrying her fireside carpet like a comfort blanket she lays on the floor, she can hear a noise, but it's just the pipes settling. She begins to fantasise about being hoovered, turning the experience into a groaning sex romp. Chimney (Jennifer Sumner) is doing some posh coughing in the background, leaning on the back of the fireplace when Wall (Bethany Sheldon) arrives with a folder full of old letters and cards; she's grumpy, her wallpaper garb is layered and peeling and all three have the dust of neglect in their hair.
They are looking for Rosie Benjamin, the owner of the house, who suddenly went away. Where could the old lady be? They ask the audience if anyone has seen a stooped old lady who carries a bag and goes shopping on a Monday, feeds the ducks on a Tuesday and does something I haven't figured out with a pair of plyers on a Wednesday.
A door on wheels becomes a portal to the past, a hat stand becomes dancer wearing a coat, then a gravestone for a dead husband. A biscuit tin full of memories in the old microwave announces itself with a scary voice and as they rummage through it's contents, stories of a younger Mrs. Benjamin emerge, sex with the milkman uses just a bottle delivered on the doorstep and one wheel of a bicycle takes Chimney on a trip to the countryside.
It's all very cleverly put together in a style that's quite unique and endearingly funny. Maison Foo has checked out the land of 'passed away', they animate the desperation of dementure with airy dances and larger than life memories of an old lady who used to love them. Personally, I'd have liked a little more dialogue and a clearer idea of Mrs. Benjamin's life, but then dementia isn't something I know much about. I'll certainly notice the old ladies in the street from now on and I look forward to this company's future work.
Reviewer: Helen Brown