Memoirs of An Asian Football Casual
Adapted by Dougal Irvine from the book by Riaz Khan
Curve Theatre
Curve Theatre, Leicester
–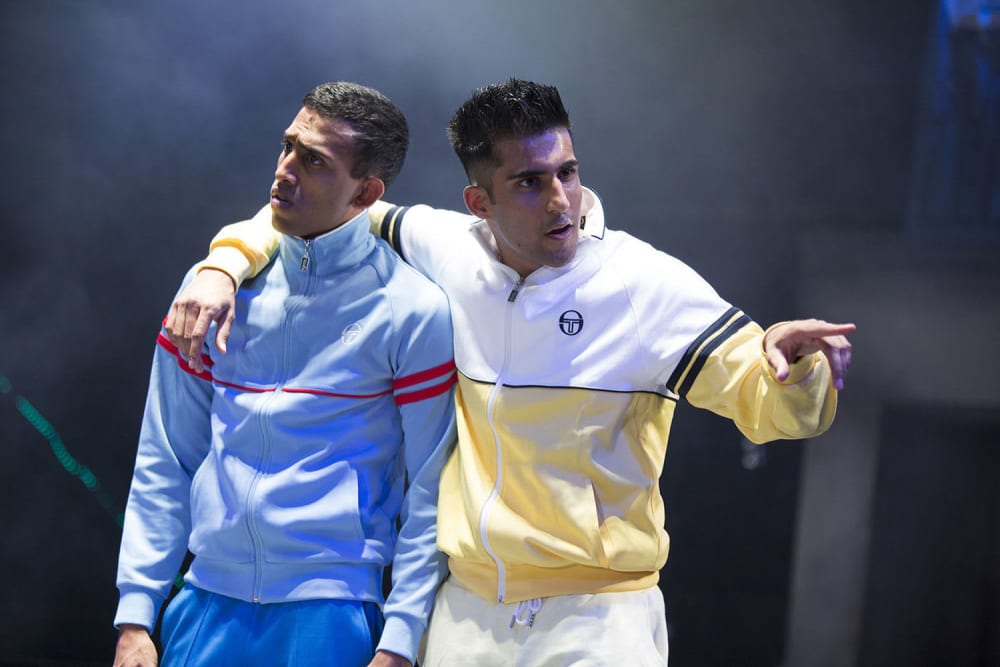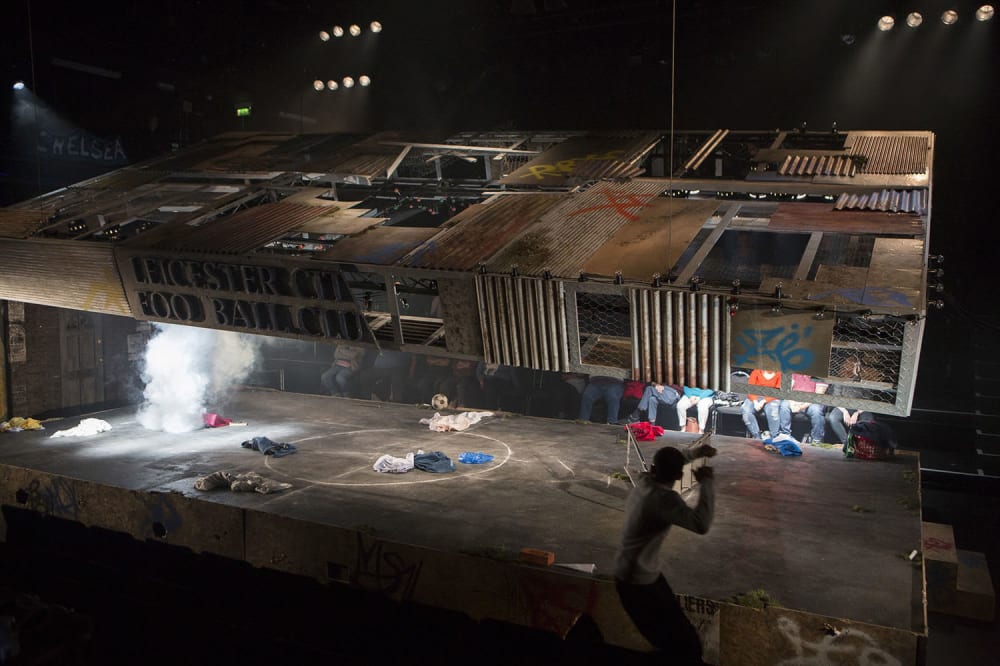 Memoirs Of An Asian Football Casual, a Made at Curve production currently enjoying its "world première", has the feel of a play of two halves, both in terms of mood and content, but also its power to engage.
Dougal Irvine's adaptation is based on Riaz Khan's KHAN—Memoirs of an Asian Casual; born in Britain of a Pakistani father and Afghan mother, Riaz and his family negotiate the aftermath of Enoch Powell's infamous "Rivers of Blood" speech in Leicester's increasingly multicultural community. Thanks to the colour of his skin, a beating is never far away and, as Riaz is often reminded, "there ain't no black in the Union Jack".
Seduced by the designer clobber of the well-turned-out casual (Fila, Ellesse et al), Riaz (Jay Varsani) and his brother Suf (Hareet Deol) are brimming with energy and testosterone but with little in the way of career prospects. As a means of escape (particularly from the National Front), they fall in with the Baby Squad, a notorious gang of Leicester City football supporters comprising a diverse mix of white, Asian and Afro Caribbean members.
It's less about football, more about the gear and the fighting; fists and kickboxing moves graduate to knives and Riaz serves several stints at Her Majesty's pleasure. With his life spiralling out of control, something has to change.
Performed in traverse on an 8 metre, rectangular platform—an audience surrounding a pitch—the stage is illuminated by a similarly-sized "flying" lighting rig which tilts and shifts position as different pressures are applied to Riaz's life. Grace Smart's set design gives the actors plenty of scope to bound from end to end. Period detail is spot on; the 15 or so props strategically placed around the edge of the stage are key to the piece—a brick used as an '80s mobile phone is an amusing touch.
Varsani and Deol, fresh out of drama school, are excellent and deliver riveting performances. Deol portrays an extensive array of characters, from elderly female relatives to prison officers, National Front supporters and rival gang members and displays an impressive mastery of different accents. The space buzzes with their energy as they dodge, weave, dance and fight.
Nikolai Foster's direction is dynamic without seeking to judge, trivialise or glamorise: actors are rarely static, humour is just right, with nice moments of dramatic irony throughout. The bounce and vigour of the first act is not reflected in act two—certainly the mood darkens as the violence increases and intensifies, however, this second part seems at least 10 minutes too long.
The '80s may well be remembered fondly—didn't we just "heart" those shoulder pads, the perms, those New Romantics—but these were also racist, violent times. There are uncomfortable echoes of where we find ourselves now: the treatment of immigrants, the rise of the far right, leading to question just how much progress have we made as a society in the last 35 years?
Endings can be problematic. In this case, it is good to discover Khan has now made a success of his life as a lecturer and family man. Appalled by the re-emergence of racism and the far right, he also spends time educating young people away from hate and mindless violence. In the play, Khan appears as himself, gives a precis of his life now and talks with and appears to reject his younger self. This came across as rather self-indulgent, and the "telling" style of this conclusion seems out of kilter with the majority of the play.
That said, Memoirs of An Asian Football Casual delivers a contemporary kick up the '80s, is well produced, directed and performed and confronts disturbing attitudes and behaviour with verve and style.
Reviewer: Sally Jack