Memory
Jonathan Lichtenstein
A Clwyd Theatr Cymru Production
Ustinov Studio, Bath, and touring
(2008)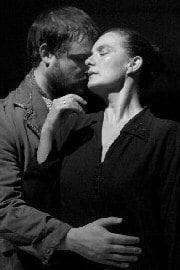 Terry Hands returns to London at the end of this month after a fifteen year absence from the capital, with a revival of his 2006 production of Lichtenstein's complex look at the long legacy of persecution and Holocaust. The play has already run in Wales and New York and is currently nearing the end of a UK tour prior to its transfer to the Pleasance on September 30th.
There are so many disparate elements to this play that on paper it really shouldn't work as well as it does. Lichtenstein's deconstruction of the form and structure of the story, achieved by having the company simultaneously perform both the play and a rehearsal of the play, remains little more than a device. The shifting scenes are performed with great precision by the company and are deftly directed, but they are a poorly integrated and unnecessary complication to the text.
Similarly awkward is the splicing of the story of Eva with subplot. Eva is seen at once as a young Jewish woman in Germany in 1938, and as an elderly and dying woman meeting her grandson for the first time in East Berlin in 1990, just after the wall came down. As Eva's splintered story gradually takes shape, it is periodically interrupted with snapshots in the life of a Muslim Arab, Bashar (a strong performance from Ifan Huw Dafydd), about to lose his family home in Bethlehem in 2006 in order to make way for another wall, the Israeli Security Barrier. Whilst the parallels are undeniable, and the Bethlehem scenes are certainly engaging, the two storylines nevertheless seem a little gracelessly thrown into the pot, so that here again one feels Lichtenstein overcomplicates.
Perhaps partly because of the demands of the text, the cast seem over-energised in places, resorting to demonstrating their emotion rather than feeling it. Certainly a more naturalistic script would help here; at times they battle with some stilted and unlikely staccato exchanges.
That said, Terry Hands manages the play's short-comings well enough, and it's a credit to the cast that the audience are drawn in by the heart of the play from the start. The banal interruptions of the rehearsal - tea, toasters and parking metres - may come dangerously close to irritation, but, with a memorable performance from Vivien Parry's Eva and some strong support along the way, the play finally builds to a moving and unexpected climax.
"Memory" runs at the Sherman Cymru, Cardiff from 16 to 20 September, and the Pleasance from 30 September.
Philip Fisher reviewed this production at the Pleasance, Islington
Reviewer: Allison Vale