The Memory of Water
Shelagh Stephenson
Stellar Quines Theatre Company at the Brunton, Musselburgh
(2004)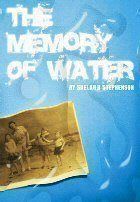 Directed by Muriel Romanes, this is a powerful and deeply moving production by Stellar Quines, the only theatre company in Scotland to promote the role of women in theatre.
The plot of this hilarious yet tragic play by Sheelagh Stephenson is constructed around the death of Vi (Mary Keegan). At the height of a snowstorm her three daughters have gathered at the family home to arrange the funeral.
Theresa (Jennifer Black), the eldest and a health food fanatic, lives close to the family home and had cared for and supported her mother who had Alzheimer's disease. She and her husband Frank (Crawford Logan) run a health supplement business but Frank is disheartened and would rather run a pub.
Mary (Alexandra Mathie), second daughter and a successful neurologist currently researching the complexities of memory, has for five years been having an affair with Mike (Simon Coury), a married TV celebrity doctor.
Catherine (Molly Innes) is the youngest daughter. Once described by her mother as the menopause, Catherine has always felt unwanted and is constantly seeking love and acceptance. A shopaholic, she relies on drugs and therapy to make sense of her life.
The set (Isla Shaw) depicts Vi's chaotic bedroom and is dominated by the double bed, scene of much of the action. While mirrors signify the personal reflections taking place, surrounding furniture and fittings resemble the aftermath of an avalanche and strewn around the perimeter are sand, pebbles and memory invoking seaside toys. The sound of waves breaking on the shore (Hilary Brooks) underscores the suggestion that soon the sea will engulf the house and its memories will be lost.
Bolstered by drugs and alcohol the sisters begin to sort through Vi's wardrobe. As they discover and don long forgotten clothes and accessories they recall individual childhood memories of their mother and the appearance of Vi onstage contributes to the ensuing laughter and sorrow. Gradually the sisters come to realise that despite disparate lives each of them retains elements of Vi, just as in homeothapy water is said to retain some biochemical memory of whatever has been dissolved in it.
As emotions on stage fluctuated from laughter to tears, so too did reactions in the audience and at times the proverbial pin could have been heard to drop. As a mother and a daughter, I found myself empathising with aspects of all the female characters in this memorable production which is touring Scotland until 26 June 04.
A must for all daughters.
Reviewer: Kaye Gilmour