Men and Girls Dance

Fevered Sleep in association with Fuel
The Place
–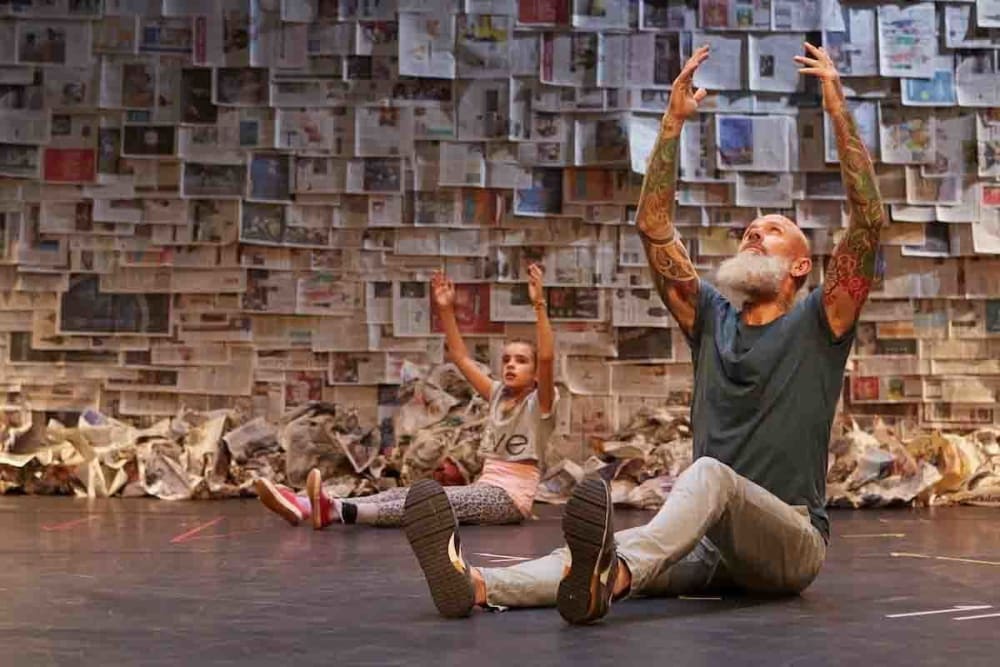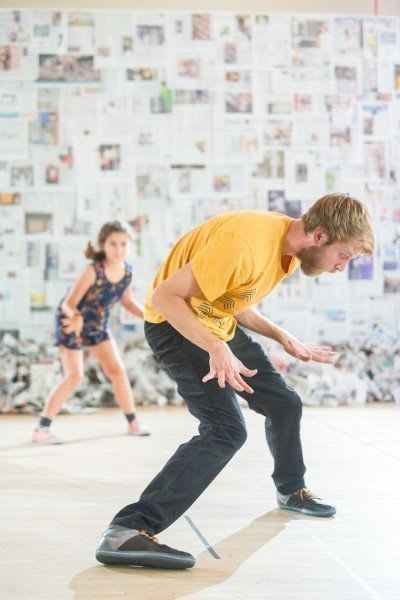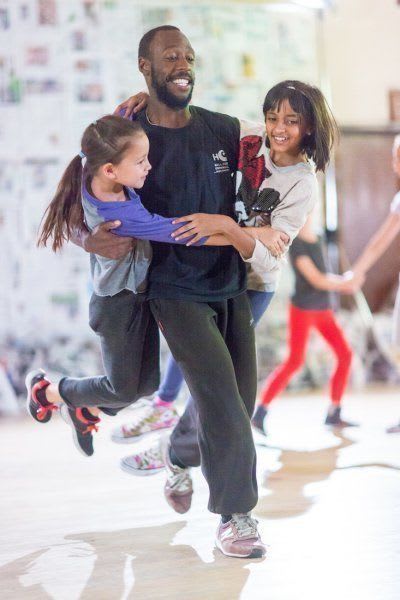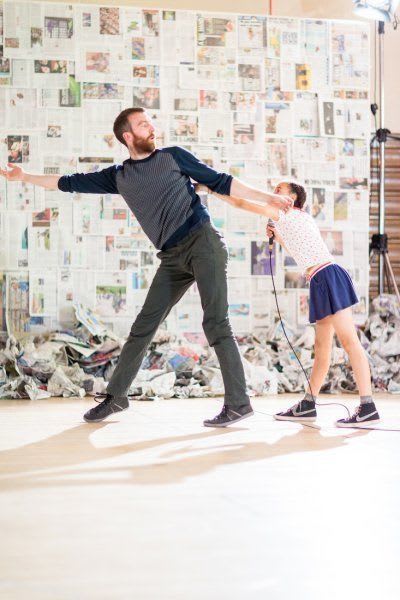 This engaging and life-enhancing performance is very enjoyable but it isn't just entertainment. It makes a very definite statement and raises important questions.
Men and Girls Dance describes what this is exactly: five adult males and nine young girls meeting and moving together. The men are trained professional dancers; the girls recruited locally for each playing venue are ordinary schoolgirls who dance just for fun.
Directors Sam Butler and David Harradine create the show with just ten or twelve day's rehearsal that, with the subsequent performances, are arranged to coincide with school holidays. Some elements will be common to all stagings and part of the show is carefully choreographed but some is entirely improvised. It all seems to be spontaneous, though clearly there is a pattern to its structure.
The back wall of the playing space is hung with newspapers, a moraine of crumpled pages at its foot. When the audience enters, the men and girls are busy laying out newspaper pages on the floor and taping them together, reinforcing the edges with more sticky tape.
As the others continue in friendly, relaxed co-operation, one dancer (Luke Crook), probably the youngest, good-looking, black-skinned, hair in ringlets, is elegantly stretching, moving off the newspapers, towards the audience, casting his eyes upward, head back and beginning to move very gracefully, with slow spins and undulations.
Two little girls stretch tape from corner to corner to consolidate one huge sheet; a man uses a foot to flatten some tape more firmly and the music changes. The older men move to one side and sit in a line. The girls go the other way and there is silence. They are separate now: grown men, little girls opposite.
Young Luke gently reaches out a hand in a gesture towards them. The eldest man (Matthew Morris), a greybeard, bald with colourful tattoos, comes forward with the same gestures and they sit on the newspaper. Two girls run forward, each holding a sheet of newspaper which they tape over a man's head; this is a show that is full of surprises. They retreat and exchange glances.
Slow chords start and there is movement in the row of crumpled-up newspapers. A figure emerges, very tall, the body covered in newssheet, the head a big ball of newspaper. Girls run forward and tear the papers away from his limbs and rejoin their colleagues; Robert Clark lifts his paper head to reveal his real one.
It is an opening that is a powerful reminder of the way that the media interferes with natural behaviour and feeds paranoia, turning every unknown adult, especially a male one, into a potential child molester.
You can see that masking and the following removal as the creation and removal of false fears and what follows is a celebration of trust and an exploration of the pleasures of movement. At first, it is usually a man who will initiate an action or gesture; with more confidence, girls do. There are simultaneous steps, rolling bodies, confident liftings and whirlings, even a fishdive. It becomes a real dancework.
Co-ordinated movement comes from keen observation and there's close observation of each other too as men describe detailed features of young girls and girls describe the men: little details seen close-up, a hand tapping, warmth from the body, not just what he or she is doing seen but the sound of their breathing and, beyond the taboo, sometimes touch.
At one point, there is the voice of the American psychologist Carl Rogers talking about empathy, though it is not very clearly recorded. In a world where people often speak of their pets understanding them, why do we prohibit it being shown to our own species?
There are moments in Men and Girls Dance, beautiful moments of confidence building, interaction that in other circumstances paranoia could mis-read as a form of "grooming", the danger that is so much talked about. Confidence gained can be wrongly exploited. Is it safe because it is in public? How can you really learn to recognize danger if never allowed to take risks? What we see here is what we lose if we daren't trust.
With these nine girls from across London and dancers Kip Johnson and Nick Lawson swinging them around or carrying them high, along with those named already, this is a happy interaction. It's a joy to see the pleasure of both girls and men in their playing together, the invention and the trust that it generates.
We are creating a world where many youngsters grow up living through mobile 'phone and Facebook, in a car cut off from others or protectively escorted. A world where teachers are afraid of being compromised if they cuddle a child who has fallen over and people wonder what that dirty old man is up to if I talk in the street to a little girl who is crying or hold an unknown little boy's hand to cross the road. It need not be like that.
Man and Girls Dance is a reminder of how much the generations have to offer to each other, same or cross-gender, how much we will lose if we demonise adults and children playing, interacting and discovering things together.
Fevered Sleep hasn't just produced a dance show, they are promoting discussion both after performances, among community groups and online.
Reviewer: Howard Loxton