Men in Motion
Choreography by Mikhail Fokine, Russell Maliphant, Arthur Pita, Christopher Bruce, Rudolf Nureyev, Alastair Marriott, Ludovic Ondiviela, Eric Gauthier, Alan Lucien Øeyen, Roland Petit and Daniel Proietto
Ivan Putrov Productions
London Coliseum
–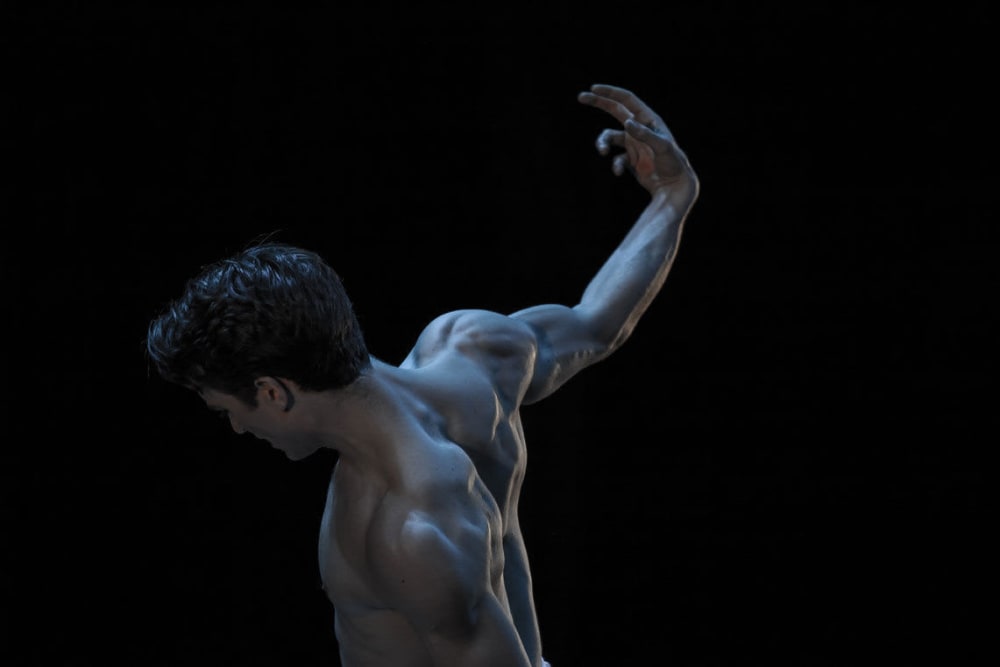 Men in Motion, Ivan Putrov's celebration of the male dancer, is back this year with an eclectic display of short pieces and extracts from larger works to show off an international group of male dancers coming together for these performances in a repertoire that ranges from classic standards to brand new contemporary choreography.
It kicks of with an item in which dance plays almost no part. Against a red curtain emblazoned with a fascistic looking symbol (a black hash tag on a white disk), Daniel Proietto, in black uniform and similar fascistic armband, delivers a satirical diatribe.
The Mockracy, with text by Andrew Wale and a key speech from Charlie Chaplin's The Great Dictator, is a piece of political polemic that takes bites at both Trump and Putin, the way international companies exploit the third world, homophobia, global warming and poor responses to the world's problems.
You have to applaud Proietto for his bravery (the act sees him go off and return several times) in facing an audience some of which were vocally hostile, but it did go on too long and the material needs sharper teeth and to be more specifically targeted. Even Chaplin's speech, out of context, is far too generalised in a world where self-styled liberals think signing online petitions equals political action.
You may think those last comments have no place in a dance review. You would have felt the same about this on a dance bill, unless this represents the next stage for the male dancer when the jetés don't lift as they used to, a sort of audition for a self re-invention.
To then delay dance further to feature the orchestra playing some Tchaikovsky with the curtain down seemed an even worse bit of programme building. Dance proper began with Marian Walter in Ludovic Ondiviela's Berlin (premièred in 2014's Men in Motion) its well-executed neoclassical choreography rather more to the audience's taste.
An excerpt from Christopher Bruce's Swansong followed, a much earlier work but more modern in its style, eloquently performed by Matthew Ball. Then came Mathieu Ganio in Alastair Marriott's Claire de Lune, with its elegant turns in attitude to Debussy's music, though the eyes were held by Philip Treacy's costume design of floating feather fronds attached to a fine mesh vest. Are they meant to be clouds for his body to shine through? They made him look hung with cobwebs.
Claire de Lune premièred only this year, Le Spectre de a Rose in 1911, though Fokine was doing things new then. It's the ballet in which Nijinsky's leap through a window caused a sensation. That feat was exaggerated but as Bakst said of his scenery you have to make the colours brighter every time to match the effect in people's memory.
There's no point comparing Putrov with Nijinsky but this is restrained compared with modern male ability, the mixture of virility and feminine delicacy difficult to pull off and modern audiences less in touch with its poetic sensitivity. In fact, this performance shifted the emphasis to Francesca Hayward's delicate portrayal of the young girl remembering her first ball and she danced it beautifully.
Russell Maliphant's Afterlight (Part One) ended the first half with Daniel Proietto hypnotically spinning caught in a surviving shaft of moonshine. It is tantalisingly under-lit, though that is what makes it so effective.
The second half opened with Eric Gauthier's Ballet 101, danced by Giovanni Princip. In this 2006 work, a voice gets dancer to demonstrate the ballet positions, not just the placings of legs and arms that we all know but a supposed complete 101 of them. They are shown first in numerical order and then in what seems random sequence producing an effect that is witty and delightfully executed.
More Fokine came next: Anton Lukovkin capturing the pathos of Petrushka in a mainly mime extract from the 1911 ballet. This was followed by Mathieu Ganio in glittering diamante in a variation Rudolph Nureyev created for the Prince in his 1964 production of Swan Lake.
A new work came next: a première of Ludovic Ondiviela's System/A.I. Ivan Putrov is a man who is removing the wrapping from a new acquisition, danced by Mathew Ball, that is what you might call a Toyboy. This isn't a Dr Coppelius clockwork but much more real, a rapid learner who is soon interacting. It's a delightful duo, well executed with affection and humour. It's a gentle comment on all relationships, not just AI ones, with a hint of concern at the idea of the artificial gaining dominance.
Sinnerman, choreographed by Alan Lucien Øeyen, gave us more glitter: Danielle Pirouette again spiralling, a pattern of moving spangles around the stage amid darkness, his body outline merged into the blackness until the lights go up a little. The idea swamps the choreography and it's too extended.
The next pas de deux made you want more: Alessandro Staiano and Marian Walter in an extract from Roland Petit's 1974 Proust ballet. The highlight of the evening with its elegant exploration of a relationship danced with masculine grace and great sensitivity.
Irek Mukhamedov's appearance is kept to the end in a new work created for him by Arthur Pita. It presents this great dancer as a dishevelled drunk swigging vodka and essaying some moves to familiar ballet themes before beginning a protracted battle to master a complex tambourine routine that saw him losing his temper and discarding dozens of them. A disappointment, especially from Pita that makes a flat ending, though carried by the audience's affection for Mukhamedov who deserves much better.
Reviewer: Howard Loxton