Men With Coconuts
Men With Coconuts
Men With Coconuts
Gilded Balloon Patter House
–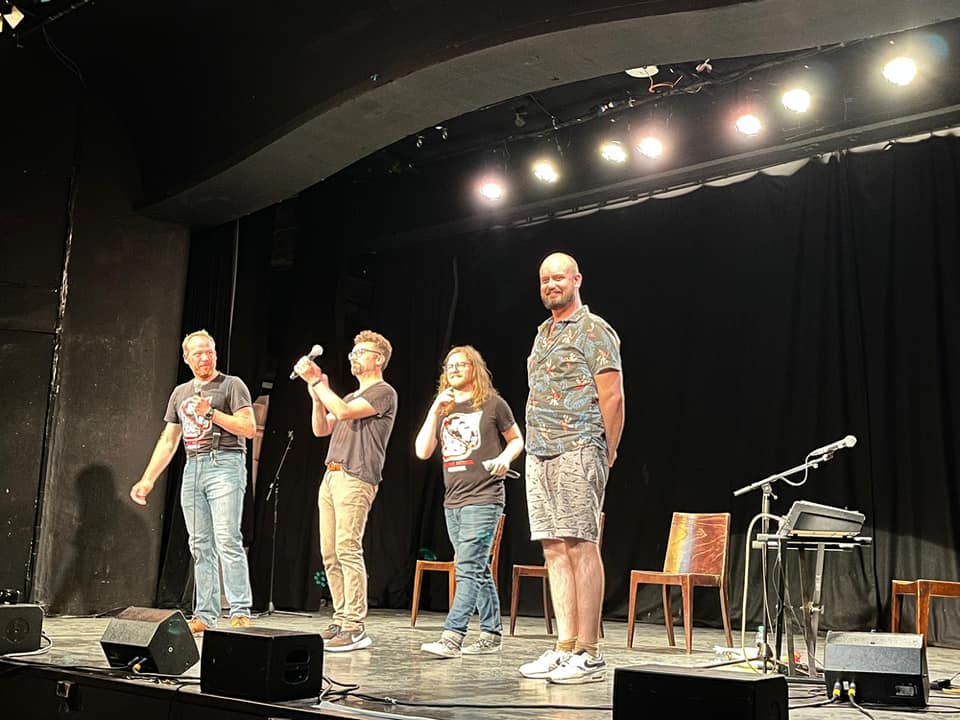 Take three men, two chairs and a keyboard... and you have a genuinely funny, witty and clever hour of impro theatre.
Men With Coconuts is an Edinburgh-based impro troupe who debuted at the Fringe in 2013 and since then have gone from strength to strength. They cover longform, shortform and musical impro—and if you've never experienced this type of show before, this is a good place to dip your toes.
For those that don't know, impro is basically 'making it up as you go along'. But of course it's not as simple as that—you have to be in tune with those you are working with and there are various templates as a performer that you work to.
But from a consumer perspective, basically the guys ask the audience for suggestions within the particular form they are working to and then amazingly come up with a fully-rounded, short playlet seemingly off the top of their heads with fully formed dialogue and characters plus accompanying musical numbers.
Every night is different of course depending on the audience suggestions. So for instance, our night had one of the guys leave the room, then the audience came up with the name of a famous performer (J. Lo), an imaginary film they might be starring in (The Queen 2) and an essential prop they needed to bring to the first days filming (a double barrelled shotgun) and the guy outside had to come back in and guess what these three things were from the prompts given by his fellow performer while acting out the scene. (He got it spot on by the way.)
It was all quite fast-moving—a little bit suggestive but mainly all good, clean fun. One couple from the audience was singled out, and after a little bit of briefing the guys acted out what could have been this couple's first date, while they commented on the accuracy with a parp on the 'chicken of truth' or the 'horn of lies'.
Apart from that, this wasn't an embarrassing experience for an audience and no one was hauled up on stage.
It was good natured, not offensive and just very, very funny. The last section was a 15-minute musical just developed from a title suggested by us. They did an Australia-based 1985 which involved two friends, a errant robot and getting lost in the bush amongst other things with some really great songs thrown in.
An excellent, entertaining show that is definitely worth a see.
Reviewer: Suzanne Hawkes