Menopause the Musical
Book and Lyrics by Jeanie Linders
TAP Productions
Shaw Theatre
(2007)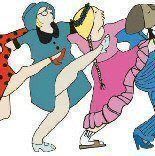 This is a show that began in a 76-seat theatre in Orlando, Florida in 2001 and has apparently been wowing millions in nine countries since. Why? Because it is very cleverly tailored to appeal to a very particular market and, if the house I saw it with is anything to go by, they love it.
It is not a brilliant piece of writing. Despite a set that is all doors, and suggests you are in for a critically-timed farce, there is no plot - unless you count a few moments when four women fight over a bra on special offer and then begin to bond. The lyrics are not brilliantly witty, the characters are stereotypes. Yet, for this audience, it seemed have the same effect as Look Back in Anger had on me when I first saw it fifty years ago.
Today I find it very difficult to remember why that play seemed to speak for me. It did not exactly echo the beliefs of the idealistic leftie I then was. But there was something there on stage that did match my own background, my own experience and my own frustrations and that is exactly what this show does for its audience. I came out of Osborne's play saying, 'Thank God, someone's said it!' Now I cannot, for the life of me, remember what I thought he'd said. Perhaps there wasn't really anything, just the fact that people I identified with talking about things that most plays then didn't.
That's why this show delights its audience: it voices their experience, it says things out loud in public that they know all to well but they only speak of among themselves and then perhaps in whispers. It is not so much Menopause The Musical as Menopause the Audience. As one of, I think, four males in a packed house of women it would have been easy to feel intimidated but they weren't even noticing the men (until one in the front row was momentarily drawn into the action). This was a girls' night out: older girls especially, a bonding night for hens that had something of the atmosphere of an outing to the Chipperfields, though not so raucous with the absence of the cocks.
Over eighty minutes the cast of four run through a succession of over twenty numbers, largely from the 60s, adapted so that instead of 'We're having a heat wave, a tropical heat wave' we have a hot flush, a tropical hot flush.' So we work through flushing, insomnia, night sweats, Prozac, Valium (and St John's Wort, one of the four women is a vegan earth-mother), food craving, weight gain, swelling ankles, problems with children and aging parents going. If you've lived through it (or alongside it) you'll know all about it, then you can let your hair down and laugh at what was certainly not easy to find funny at the time. If you are of an age for when songs like 'I Got You Babe', 'I Heard it Through the Grapevine', 'YMCA' and 'The Lion Sleeps Tonight' are part of your lifeblood, it's a foot-tapping nostalgia fest as well.
This isn't the humour of the pantomime dame going through 'The Change' that so often can point a cruel finger at women. This is women laughing at themselves, led by a career business woman in smart trouser suit (Miquel Brown), a soap-star still passing as an ingénue with the help of butox (Samantha Hughes), a comfortably upholstered whole-earth relic of days of peace and love (Amanda Symonds) and a Rutland housewife (Su Pollard) who's up in town with her husband for a funeral directors' conference. All in good voice (though over-amplified) and nimble-footed they generate exuberant high spirits.
The original American show has been slightly Englished and the setting is now the M & S store at Marble Arch (which provides the frocks and perhaps more), moving from department to department or into the ladies powder-room. It is really just a succession of song and dance numbers (choreographed by Patty Bender), but despite the breaks between them to bring on a few token clothes racks, beauty counters or other dressings, the (back-stage) band keep up the momentum which occasionally peaks such as Brown appearing as Tina Turner for 'What's Love Got to Do with It' and the others introducing Su Pollard to vibrators.
All those doors seem to lead to the lavatory and I got somewhat tired of the sound of cisterns emptying - nothing about this show is subtle, and personally I only laughed out loud once or twice. But I am not a middle-aged or older woman and for most of the audience director Michael Larsen and writer Jeanie Linders seem to have got it just right, especially is it moved from humour into celebration, culminating in most of the audience kicking away upon the crowded stage. The word of mouth on this is going to be much stronger than the dismissal which it will probably get from some of my fellow critics. My very intelligent companion with a background in publishing, law and public service loved it, though she did say she would have gibbed at paying £39.50 if she was buying her own ticket!
Running until 25th August
Visit our sponsor 1st 4 London Theatre to book tickets for Menopause the Musical .
Reviewer: Howard Loxton