Merchant of Vembley
Shishir Kurup
Rented Space Theatre Company
Cockpit Theatre
–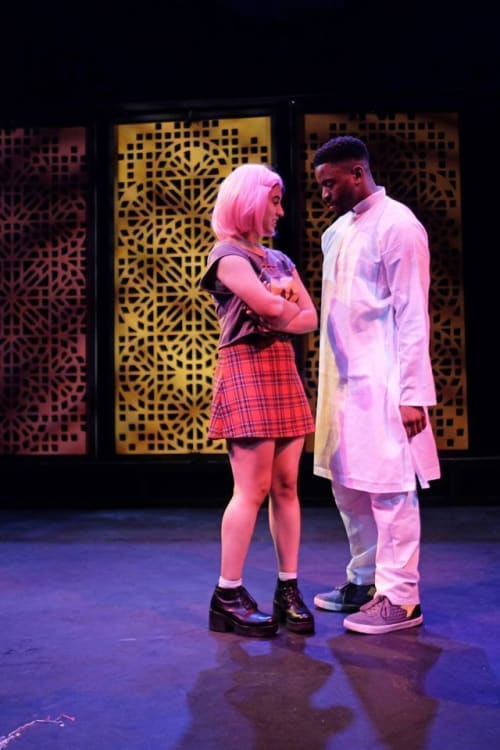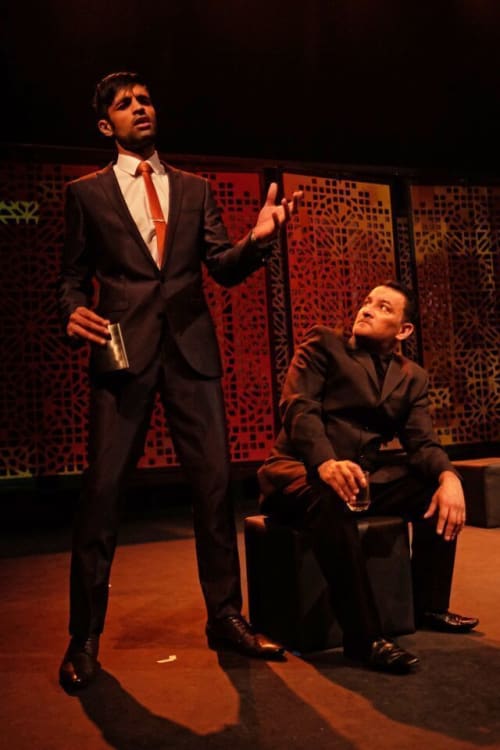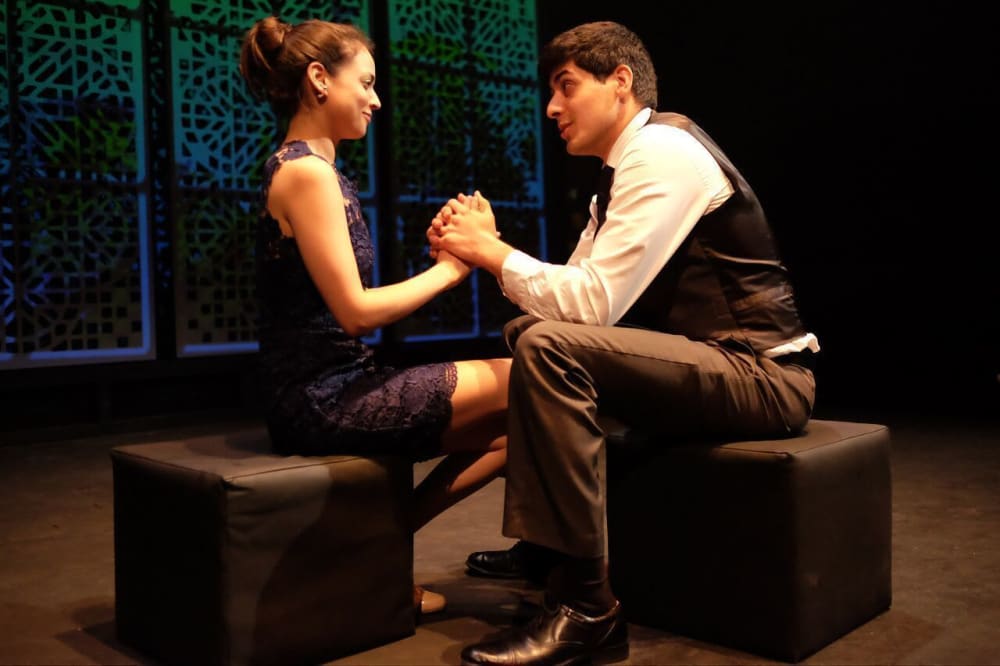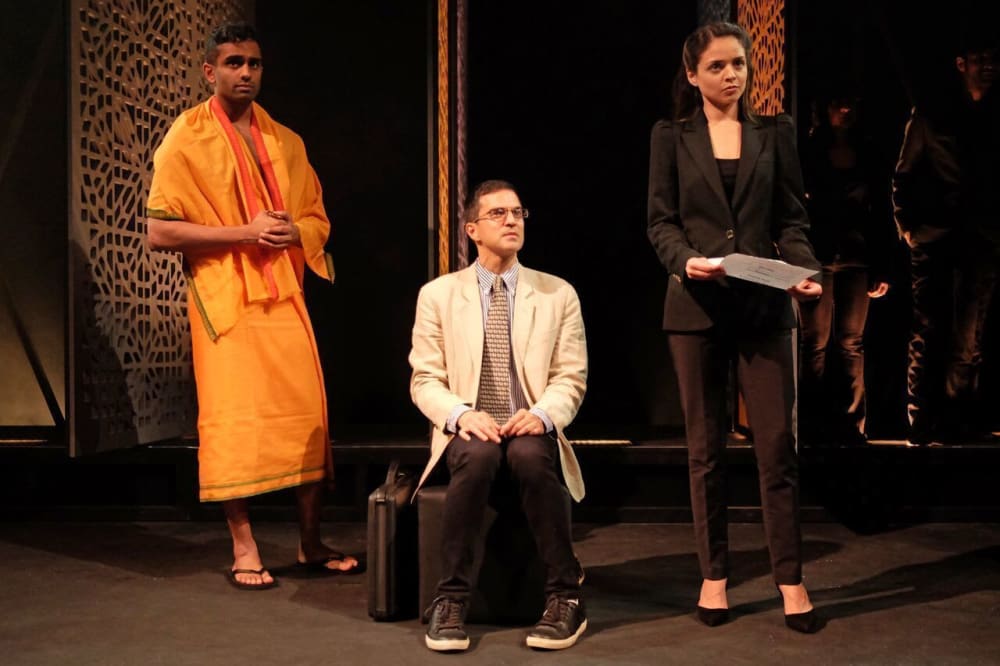 Yes, you're right to think Shakespeare and The Merchant of Venice but this isn't a straight transposition to north west London.
Just as Shakespeare himself pinched other people's plots (in this case a couple of Italian stories) and did something different with them, so has Shishir Kurup. In fact this is his second reworking: as Merchant on Venice (which premièred in Chicago in 2007) it was set in Culver City, California.
This version is now set in Wembley, an ethnically mixed area with a large proportion of both Hindus and Muslims, with Devender (his Antonio character) Hindu and Sharuk (his Shylock character) a Muslim and the play reflecting the increasing tensions between the communities since the development of Al Qaeda and Jihadist terrorism.
Jeetendra (Shakespeare's Bassanio) is a Bollywood film star whose career is in decline. He wants money to make a new movie and sees marriage to London-based Gujarati heiress Pushpa as the source. Jeetendra doesn't want to be seen as the fortune hunter he is so needs money to lavishly woo her.
He asks his lover businessman Devender to supply it. But besotted Devender has a cash flow problem and short-term has to borrow—and the only lender likely to lend as a large amount as Jeetendra asks for is Sharuk, a man whom he has often subjected to racist smears.
Unwilling at first to deal with a Hindu who has demeaned him, high interest makes Sharuk agree but demanding an ironic penalty for default to ridicule Devender and deride his sexuality: he can claim a very specific piece of flesh.
Kurup presents a much more critical picture of racism and religious prejudice than Shakespeare, a strong plea for compassion and tolerance and offers a philosophical argument drawn from Sanskrit Hindu scripture. He follows Shakespeare in writing in iambics but his inventive reshaping gives a different perspective.
In the tradition of arranged marriages, Pushpa's late father, a Mumbai producer, controls her choice of husband through the terms of his will. Her suitors must select the right one of three old Indian films: Satyajit Ray's Pather Panchali, Deepak Sareen's Jab Pyaar Kisise Hota Hai (When one falls in love) and Shyam Benegal's Kondura (The Sage from the Sea).
This parallels Shakespeare's choice between gold, silver and lead boxes, though its exact implications will be lost on non-Asian audiences. So will some of the humour. Kurup's satirically witty script is perhaps too tightly packed to take all in but its delivery needs a deeper sense of meaning and isn't helped by some performers (one especially) consciously trying to be funny.
No modern court would countenance a case over Devendra and Sharuk's contract so this judgement is set in a private court of Asian businessmen, which also makes it easier for Pushpa to appear as an advocate.
The staging is simple with a rear screen of revolving fretted panels which make entrances easy, carries colourful projections and gives a 3D feel to a pre-show film of street traffic with lots of red buses that establishes location, though it seems little that follows is rooted in Wembley (the movie business aspects more naturally match Los Angeles). There is a formality about Ajay Chowdhury's production, establishing the opposing characters in an opening tableau, giving shapes to scenes and echoed in a moving final image.
Rohit Gokani makes a strong Devendra, like his gay hangers-on unrelentingly racist. He only earns any compassion when at last showing shows some humility. Jeetendra shamelessly exploits his affection and Shamir Dawood's movie star becomes a young man who thinks his good looks will get him everything. Indeed, even sophisticated Pushpa seems taken in by him, perhaps because she idolised him when she was a girl. By being the dutiful daughter she could, of course, end up with much worse.
There are no perfect people in this play, the best of them Pushpa's companion Kavita (Taj Kandula, who delivers a key speech with skill) and Jarreau Antoine's Armando, though he encourages secret girlfriend Noorani to abandon her father Sharuk. Even Pushpa shows prejudice.
It is Sharuk who attract audience sympathy, not only because he is the derided minority but also because Emilio Doorgasingh gives him inner integrity to match his stage presence. Some of this cast seem awkwardly aware that they are speaking verse, Doorgasingh is an actor who makes it his own, truly thinking it and Ajay Chowdhury's production suggests real feeling between Sharuk and Noorani (Layla Chowdhury making a promising professional debut).
There are some snatches of song and a few moments of dancing but few echoes of Bangla or Bollywood and for those who know Shakespeare's original interest comes more from noting the changes rather than from dramatic action.
It is clever, but why make this version? That becomes clearer as the play progresses: first in Sharuk's new speeches that replace Shylock's famous ones and then in the court scene itself and the way that Pushpa frames her arguments.
There is no romantic ending for the lovers (indeed a hint that Pushpa may be a little worried about Jeetendra and Devendra) but a plea to recognize the real teaching of Hinduism, which has a relevance for us all.
Reviewer: Howard Loxton