The Merchant of Venice
William Shakespeare
Theatre for a New Audience
Swan Theatre, Stratford
(2007)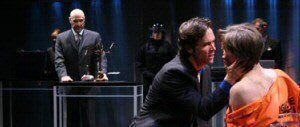 Theatregoers are long familiar with the transposing of Shakespeare's plays to other ages. You name it; someone, somewhere, has seen it. But the film, The Forbidden Planet aside, a very 'loose' adaptation of The Tempest, I must confess I've never heard of one set in the 'near future as The Merchant of Venice is here.
It is fair to say I think that the production by the American company, Theatre for a New Audience, is one of the highlights of the RSC's year-long Complete Works season and it is certainly the pick of the offerings from over the pond, boasting as it does a terrific performance by F Murray Abraham, best known for his Oscar-winning role as Salieri in the screen adaptation of Peter Shaeffer's play Amadeus, as the moneylender Shylock.
The production, which wittily embraces technology - mobile phones, PowerBooks and Blackberries all feature - will not be enjoyed by everyone, Shakespearean purists beware, though it does so, in the main, in the service of the play, rather than an overriding directorial concept. What unfolds in the course of three hours is a dystopian vision of a society in which naked self-serving and the elevation of money-making as intrinsically good recalls the excesses of the Thatcher years, and where too a virulent and boorish xenophobia prevails.
The tone is set by Tom Neil's icily aloof and disdainful Antonio, whose sole merit seems to be his love for Bassanio. There is, perhaps, a suggestion that his homosexuality may be a factor in his isolation and, perhaps too, in his hatred of the Jew, Shylock, another outsider. At the end, while the Venetians hugger-mugger, celebrate and the song, Can It Be That Love Has Come to Stay?, Antonio stands alone as the lights go down.
Even Shylock's former servant Launcelot Gobbo, played by Kenajuan Bentley, turns on his erstwhile master's daughter, Rebecca, after she has run away to marry the Christian Lorenzo, whose household Gobbo has also joined. But it is not just anti-Semitism which runs like poison through this society; director Darko Tresnjack also gives us a world in which two financial traders bitchily giggle at news of fellow compatriot Antonio's latest misfortunes and the hopes of the lovers Lorenzo and Rebecca quickly sour and founder on misunderstanding.
Recourse to the text reveals that Tresnjack is forcing the point more than somewhat, heavily so in two of the above instances. True, Gobbo does get a bit 'Gobboy' with Rebecca and his new master, but this is accepted by Lorenzo in good humour and his exchanges are not as virulent as this staging makes out. The two traders who laugh at Antonio's misfortunes are, in fact, his friends Solanio and Salerio. Most strikingly, there is nothing I can find to suggest that Lorenzo and Rebecca are becoming disenchanted, perhaps fatally, with one another.
But if the production is at pains to rub our nose in the cupidity, hatred and intolerance which permeate the play, it also strives to point up the comedy, much of which makes use of the possibilities offered by the technology. This is particularly true of the scenes in which Portia's suitors come calling. Arnie Burton, as Balthazar, Portia's servant, normally an anonymous role, contrives to steal several as a campy, prissy PA.
The acting is variable, some of it over-gestural; and then there is Abraham who plays Shylock for much of the play with a granite-like impassivity, maintaining dignity in the face of the continual hostility by Antonio and others. This lends force to his rage when misfortune brings Antonio within his power and also to his pain and humiliation when he is forced into becoming a Christian; cowering in shame and covering his head with his hand after his yarmulke, or skull cap, is gleefully ripped from his head and thrown on the floor. Of the rest of the company, Ezra Knight clearly has a ball with a flamboyant turn as the Prince of Morocco and there is good work from Vince Nappo as an ambivalent Lorenzo and Kate Forbes as Portia, once she ditches the large ginger wig.
Next up, in the Royal Shakespeare Theatre, is Ian McKellen's King Lear. One hopes that it has crossed somebody else's mind to invite F Murray Abraham over again to take the title role in a future production.
Reviewer: Pete Wood