The Merchant of Venice
William Shakespeare
Wales Theatre Company
Grand Theatre, Swansea, and touring
(2004)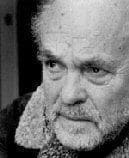 I suppose I've always had a liking for this play ever since it was part of my required reading way back in the sixties. Now I'm not sure how I feel about it and this production has helped to create this uneasiness.
I am all for setting Shakespeare in any time zone as long as that has something to say about the time in which it is set. The Macbeth set in Fascist Germany had a resonance. Michael Bogdanov has set this production in a grey, stock market arena, adorned with a multitude of small flashing screens with one main large central screen.
It's because of this strong visual statement that we are constantly asking ourselves what is the relevance of the play to the money-grabbing, lottery-loving society we live in today. Maybe it does have much to say.
Here we see the Christians as greedy, money-loving characters. How pathetic is Bassanio borrowing money in order to become a suitor for the hand of the wealthy Portia? How wise is Antonio to stand surety on this venture? How sad is Portia to have to accept her father's wishes and be forced to accept the result of a frivolous lottery to choose her future husband. Arranged marriages are one thing but this idea was seriously flawed, but, as this is comedy, it all turns out all right in the end.
Essentially the play is a light romantic comedy with the choosing of the caskets a moment when Shakespeare makes a few philosophical comments on man's materialistic approach to life. Add a bit of cross-dressing and you have enough humour to satisfy most audiences, although I do wish the "afficiadoes" wouldn't laugh so show-offishly loud, you know what I mean? A smile would suffice with, perhaps, an affectionate grunt.
Then we have the darker side: the Christians against the Jews. This was perfectly acceptable to the audiences of the Jew-baiting society of Elizabeth I when it was believed that a Jewish doctor had tried to poison the queen. However, this is a difficult one for the P.C. educated audiences of today. Or is it? We live in a world divided by religious doctrines and the divide is constantly fired by manic fundamentalists.
This production demonstrates the fundamentalist attitudes of the Christians and we find ourselves finding sympathy towards this Shylock who is beautifully played by Philip Madoc. Because of the modern setting and Shylock's age we know that the sub plot of the Holocaust is never far away from his thinking. His voice has a rich timbre and his pace and delivery were excellent, a point that some junior members of the cast should learn from.
Some young actors think they can rush through Shakespearean dialogue as if they were on close camera in a TV soap. We all know how notoriously difficult it can be to tune in to this dialogue so pace and emphasis should be given more attention.
The other members of the cast who stand out for special mention are Heledd Baskerville as Portia and Richard Nichols as Gratiano. This Portia was lively and attractive to watch with an intelligent interpretation of the script. However, I would liked to have seen her strutting her stuff around the court room during the famous "Quality of mercy" speech instead of being stuck behind a desk
Richard Nichols injected much charisma into the cameo role of Gratiano. I'd liked to have seen much of the same from Russell Gomer's Bassanio who reminded me, so often, of a laid-back Jonathan Ross.
John Labanowski was an excellent Morocco, who, with his huge presence, charmed the audience with his comic performance.
The large screen came into its own during the revealing of the suitors sequence. A clever device and well received.
Bogdanov's twist at the end with the suicide of Shylock helped to underline how destructive a frivolous and corrupt society can be. This event caused an unexpected gasp from the audience and firmly placed our sympathy with Shylock. Also, there was a reflective moment from Shylock's daughter, Jessica, who, standing alone, clearly was considering the fate of herself and her father, a moment that spoke volumes. This, I felt was a suitable conclusion for today's audience.
On the whole this was a very good production with fine performances from Kathryn Dimery (Nerissa), Oliver Wood (Lancelot Gobbo) and Bill Wallis (Tubal).
Congratulations to all concerned for helping to keep alive much needed quality theatre in Wales.
Reviewer: Tony Layton