The Merchant of Venice
William Shakespeare
Octagon Theatre, Bolton
(2008)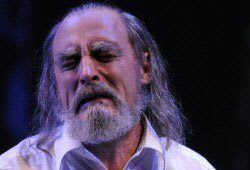 Bolton's Octagon Theatre returns from its summer break with a modern dress production of Shakespeare's The Merchant of Venice from artistic director Mark Babych.
On a stage that appears to have a floor and a high back wall made from dark, cold marble appears a cast dressed in smart, modern business suits and sporting mobile 'phones in a design by Tom Scutt that could be portraying the recent financial troubles of a group of city traders. Wyllie Longmore as Antonio looks by far the smartest of them all, exuding respectability and even nobility before he speaks a word, even when he believes he is facing death for his debts.
As Jewish moneylender Shylock, David Fielder is wonderful, portraying the cruelty and the pain of this proud man with great humanity. Of everyone on stage, Fielder is the most able to make this 400-year-old language sound fresh and natural and almost as modern as the clothes he is wearing. The others don't always achieve this clarity and comprehensibility.
Emily Pithon plays all the comedy in the role of Portia, which mostly works very well, aided very ably by her assistant Nerissa, played by Jenny Platt; between them they bring a great deal of life and lightness to many of their scenes, particularly those when Portia's potential husbands have to solve the riddle of the three boxes to win her.
The opening scene follows the modern trend of cramming as much playful stage business as possible into the first scene of a Shakespeare comedy to give it life but without delivering the important information in the dialogue in a way that is easy to follow for the audience. However once the play gets going, it moves at a good pace throughout and the plot becomes much clearer. The use of mobile 'phones, which in some Shakespeare plays could make the whole plot fall apart (if the Friar had texted his plans to Romeo instead of sending a messenger, the whole tragedy could have been averted!), here is quite a clever idea of getting across the information usually delivered by messengers without needing a huge company of actors in tiny parts. It mostly works when the conversations are short, but something does rather jar about a lengthy verse speech in Elizabethan language delivered into a mobile 'phone.
The production makes some very interesting use of the character of Shylock's daughter Jessica, played by Catherine Kinsella, who says very little about the attacks on her father, his business and his religion, but she shows clearly on her face the doubts and even the torment inside her about what is being done to him by the people she has abandoned him to be with. After the happy ending, she is left facing the audience, wondering what she has done in a moment that opens up a different angle on the events of the play.
Overall, despite some small niggles, this is a very strong opening production for the Octagon's new season, offering the opportunity to see a very accessible production of this controversial play with some very strong performances, particularly from the wonderful David Fielder as a very human and almost sympathetic Shylock.
Reviewer: David Chadderton