The Merchants of Bollywood
Written and directed by Toby Gough, composed by Salim and Sulaiman Merchant, choreography by Vaibhavi Merchant
Peacock Theatre
(2011)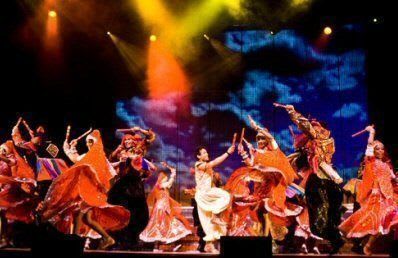 This international touring show, already seen here last year, returns to the Peacock Theatre full of vitality and bling. These Merchants are no tradesmen but both the creators of the show's songs and dances and the family of the story: teachers of traditional dance and choreographers of movie musicals - and in particular Ayesha (Caroi Furtado) and her grandfather Shantilal (Chander Khanna) who are based on Vaibhavi Merchant and her own grandfather.
It opens in a temple to Shiva where Shantilal, now retired from his life in Mumbai cinema, has trained young Ayesha and the boy Uday in traditional dances performed in honour of the God. Ayesha, dazzled by modern movies, wants to dance like John Travolta and to have a film career too. She goes off to make her own life but, disillusioned by Bollywood's formulaic approach and disinterest in originality, she returns, makes peace with her grandfather, marries her childhood sweetheart Uday and creates a dance style that fuses the traditional and the modern.
The plot, however, is mainly an excuse for a series of spectacular dance routines and much of the story is told by Satwinder Jaspai's narrator. He is pompously pedantic compared to the camply arch movie director Tony Bakshi whom he also plays with wicked humour.
For those well versed in the Indian movie scene there is clearly a lot of satire at its expense, picked up by a few Hindi speaking members of the audience but mainly lost on me, but, although some of the numbers are in Hindi or perhaps Urdu, the dialogues is almost all in English; this is very much a production for the international market. It is a feast of colour and glitter from the flashing displays of its electronic scenery to every single costume. Some of its characters may be slum dwellers or poor peasants but they are still glittering with diamante, sequins, palettes or gold lame, even male chests shine not with just with sweat but strategic silver dust, and the show is consistently upbeat.
I was a little surprised to see what was presented as traditional kathak dance at the opening ending in a floor spins from modern street dance and the numbers for movies in the first half do become somewhat repetitious with lots of punching arms and lavatory chain pulling movements, though that fits the plot's point of unoriginality, but in the second half the choreography takes off, not least perhaps because the previously underused Deepak Rawat is allowed to shine as Uday and Ayesha herself becomes central to the choreography
One male dancer in the ensemble who is central to most of the numbers is dazzlingly charismatic but this is a vigorous and engaging ensemble, constantly disappearing to reappear in new outfits which means that occasionally numbers are bridged by a light display to dazzle the audience who gave it a tremendous reception, which is just as well for the best choreography is kept for the encores at the curtain call.
"The Merchants of Bollywood" is at the Peacock Theatre until 3rd July 2011
Reviewer: Howard Loxton