Merlin and the Cave of Dreams
Charles Way
Library Theatre, Manchester
(2004)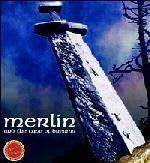 The Library Theatre Company's Christmas production this year is about as far away from pantomime as it is possible to get. Instead of fast-moving knockabout comedy, pop songs and former soap stars, Charles Way's lyrical script, performed by a talented cast, is slow-moving and wordy but fascinating. The story, which displays many influences from European mythology, traces Arthur's journey from discovering the true identity of his parents to drawing Excalibur from the stone and becoming King. In between, he has to journey through the underworld and confront a number of difficult challenges, just like many other mythical heroes from different cultures and traditions.
It is tempting to use the fashionable word 'multimedia' to describe Roger Haines's production. The action is continuously underscored by Richard Taylor's atmospheric music, just like a film. Roma Patel's video designs, ranging from images of Merlin as a ghostly presence to flickering lighting effects, often appear across the back wall of the stage. Designer Kate Burnett has utilised the space extremely well to create the different locations, almost making the smallness of the Library's stage seem like an asset rather than a limitation. The fight sequences choreographed by Renny Krupinski are very impressive, but occasionally seem slightly beyond the abilities of the actors carrying them out (they will no doubt improve as the run of the play progresses).
In the title role, Wyllie Longmore is both sinister and reassuring: a powerful, tormented, irritable but ultimately well-meaning Merlin. Alexander Campbell and Patrick Connolly as Arthur - the young boy charged with a sacred, burdensome quest - and his stepbrother Cei - passionate, intense and determined to protect his companion - resemble Frodo and Sam from the Lord of the Rings films physically as well as in the nature of their roles, helped a little by the costume design and the use of music. Rebecca Steele and Duncan Henderson have the dual roles of Gwyneth and Ector, the couple who raised Arthur as their own, and two of the characters from the other world in oversized costumes and large mask heads.
Although this production may not hold the attention of very young children, the excitable school party that filled almost all of the theatre at this performance was quiet and attentive throughout and cheered loudly at the end. The complex technical elements of this production fit seamlessly with the text and the actors to produce a dreamlike quality, which is enhanced by non-technical effects, for instance performers playing objects such as the stone and the boat and characters appearing to melt slowly through the floor. With Merlin, the Library Theatre Company has succeeded in presenting one of the most interesting theatrical offerings available at this time of year.
"Merlin and the Cave of Dreams" runs until 22 January 2005
Reviewer: David Chadderton