Mermaid
Polly Teale
Shared Experience
Clwyd Theatr Cymru, Mold
–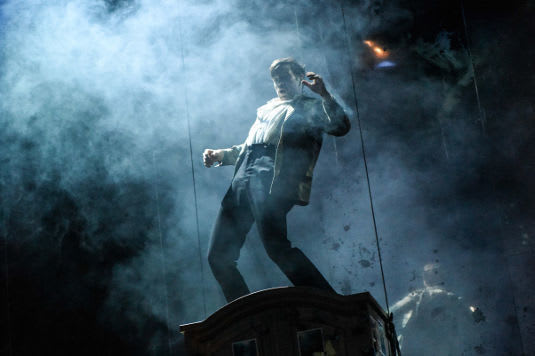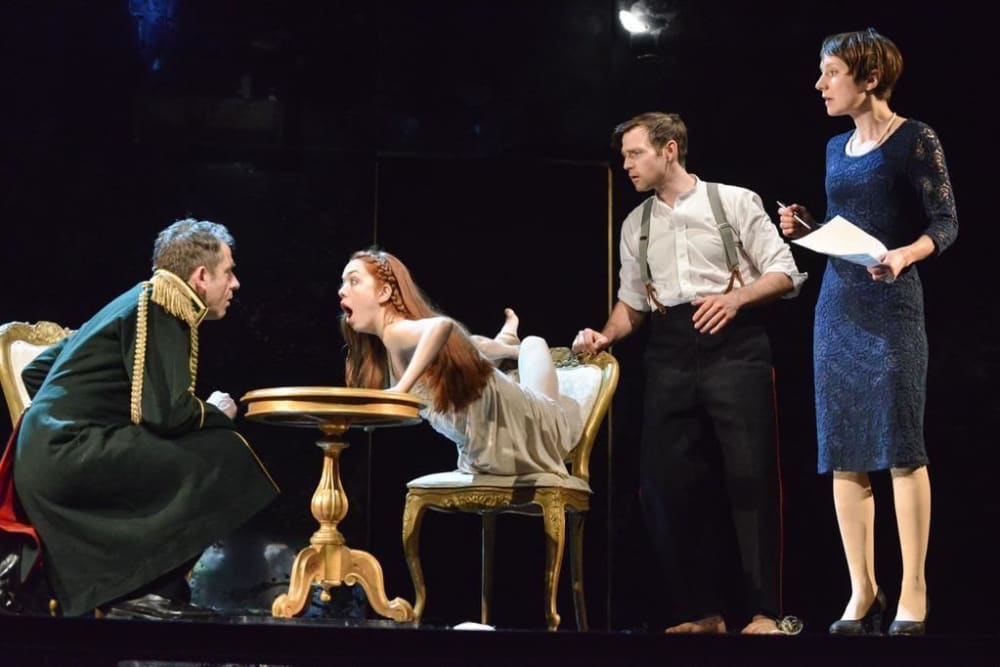 Polly Teale has used the Hans Christian Anderson tale to offer an, at times, uncomfortable examination of a number of contemporary issues. Wonderfully performed and benefitting from superb design by Tom Piper, there's little doubt the viewer will be left with plenty to ponder.
The story is told from the perspective of a homework assignment by Blue, a teenage victim of bullying, who remains on stage throughout, often mouthing the words of other cast members.
The idea of Blue continually scribbling in her exercise book and watching the unfolding events is a good one and Natalie Gavin is both convincing and sensitive in the role, particularly as she suffers bullying from wealthier and trendier girls. Her obsession with the fantasy of mermaids also isolates her and the portrayal is so convincing as to make uncomfortable viewing.
The stage is designed to operate at two levels, with the lower section representing below the sea. The mermaids don't have tails, but neither do they need them as their continual twisting and sliding movement is brilliantly choreographed by Liz Ranken and wonderfully evocative of this fantasy world of the deep. Buckets of water are placed around the stage to enable the mermaids to plunge their heads and appear soaking when they break the surface.
Sarah Twomey is making a very impressive debut in this production as the Little Mermaid who yearns to experience life above the waves and makes a disturbing pact with the Sea Witch in order to do so. She sacrifices her tongue to pursue her love for the Prince.
Henceforth, the harsh realities of the world are once again all too relevant. Finn Hanlon presents a Prince who is not only under pressure to marry and suffering from post-traumatic stress disorder but is also a sensitive soul concerned with philosophy. The Prince is haunted by the sound of singing he heard by the sea, unaware that his life has been saved by the Mermaid.
Special mention must be made of the local singers who have been recruited to appear in each of the venues visited by this touring production and who provide sublime, ethereal vocals.
From this point, the plot careers along and incorporates eating disorders, anti-war protests, the true horrors of war, suicide bombers, press intrusion, celebrity obsession and insensitive, pushy parents. There are a lot of themes, which possibly seem a little crammed due to the much shorter second set, but full credit to Polly Teale for having the vision to incorporate them into the narrative as none seems out of place.
Mermaid is clever in many respects but perhaps the most vivid is the stark contrast offered between our often unpleasant world on land and the peaceful world beneath the sea. No wonder Blue spends so long fantasising about it—you may well be tempted to join her after viewing this production.
Reviewer: Dave Jennings