The Merry Wives of Windsor
William Shakespeare
Shakespeare's Globe
(2010)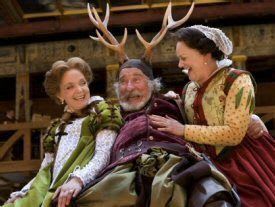 Christopher Luscombe's entertaining 2008 production of this Windsor-set domestic comedy is revived with most of its original cast. It is popularly said to have been written at the behest of Queen Elizabeth who wanted to see 'Sir John in love,' and it gives us Falstaff, the rotund knight of the two parts of Henry IV (also playing this season but with a different actor in that role), paying court to not just one but two married ladies of the town. Meanwhile in a parallel storyline the parents of pretty young Anne Page are each trying to arrange her marriage to a different suitor while she is set upon an impecunious beau of her own choice.
It is a tale of scheme and counter scheme that has all the elements of a traditional farce or a modern sit-com. As an article in the programme points out, John Cleese pinched the well-known concealment in a laundry basket part of the plot for an episode of Fawlty Towers. He knew good comic business when he saw it and so did Shakespeare, who himself had probably pinched it from an Italian story. There is a comic Welshman, a comic Frenchman, wives who are brighter than their husbands, the social climbing middle-class, plots foiled, pomposity deflated and love triumphant.
Apart from a rather heavy-handed opening , too strongly signalling that This Is a Comedy (though the Globe audience loved it), Luscombe directs with a light touch and stacks of invention He has a delicious double-act in Serena Evans and Sarah Woodward as gentlewomen Margaret Page and Alice Ford, their timing as nicely judged as their clever pat-a-cake routine. They are a conniving couple who make a game not only of putting Falstaff in his place but have no problem in handling husbands without them knowing it, whether Michael Garner's joltingly jealous George Page or Andrew Harvill's more easy-going Frank Ford.
Gareth Armstrong's Welsh clergyman and Philip Bird's French doctor fully exploit Shakespeare's savage portraits at the expense of 'foreigners ' but keep the humanity of their characters without tipping into total caricature and there is a lovely direct performance from Sue Wallace whose busybody Mistress Quickly embraces the whole audience.
Fenton, the fortune-seeker turned romantic who is Anne Page's other suitor, is played (literally) warts and all by Gerard McCarthy; Shakespeare the realist knows exactly the society he is depicting, and Ceri-Lyn Cissone's Anne suggests she is not too easy a push-over. William Belchambers follows the text in making his rival Slender a perfect dolt with a hint in one piece of business that his peacock finery peacock may hide a transvestite taste. Peter Gales's fine-voiced Shallow, not yet the decrepit Justice of Henry IV, Jonty Stephen's innkeeper and the rest of the cast all give excellent support.
This is very much a company show but at its centre is a splendid Sir John Falstaff. Christopher Benjamin plays him as a man very aware of his station and what is due to him. He is not so much arrogant as supremely confident and unquenchably optimistic. There is a gentleness about him that means you can't help liking. Padded to the necessary girth, he combines the difficulties of handling that bulk with the nimbleness of foot that the over-stuffed so often seems to display. When he wants to, this knight can cut a caper and, because you know his schemes are all so hopelessly doomed to fail, you cannot bring yourself to censure him.
Designer Janet Bird has put everyone in colourful Elizabeth dress and given the final gulling of Falstaff in Windsor Forest a masque like quality. Adding an extra architecture element to the Globe façade and a bridged catwalk that curves across the yard, pushes the action forward and provides a swivelling trap that brings an Elizabethan garden, complete with love seat, and Herne's forest oak tree right into the middle of the groundlings. These additions change the look of the theatre. They will seem gratuitous and against the grain for anyone looking for a 'museum theatre' production but they do work in performance.
What also works is an extensive use of music. Not only is there a delightful duet for the two young lovers and a merry drinking song (with texts imported from other sources) as well as the fairy roundelays of the final scene but music leads entrances and supports dialogues and speeches; composer Nigel Hess makes a major contribution to the production's style and atmosphere.
In repertoire at the Globe until 2nd October, then touring: 14th - 24th October Eli and Edyth Broad Stage, Santa Monica, California; USA; 28th October - 7th November Michael Schimmel Center for the Performing Arts, New York, USA; 16th - 20th November Milton Keynes Theatre; 23th - 27th November, Norwich Theatre Royal; 30th November - 4th December Richmond Theatre; 6th - 11th December Theatre Royal, Bath.
Reviewer: Howard Loxton